Civil Engineering Jobs in Federal Public Service Commission (FPSC) November, 2017
Post Title: Executive Engineer (BS-18)
Temporary, Gilgit Baltistan Council Secretariat, Islamabad
Qualification: Second Class or Grade "C" Bachelor's Degree in Civil Engineering or equivalent from a recognized university.
Experience : Five years post qualification experience in Civil Engineering in a responsible position equivalent to BS-17 in Govt./Semi Govt./Reputable Private Organization
Age Limit: 25-35 years plus 5 years general relaxation in upper age limit.
Domicile: Punjab : (Both Male & Female candidates are eligible)
Title of Position: Engineering Adviser (Civil) BS-20
Temporary likely to continue, Office of the Chief Engineering Adviser/chairman Federal Flood commission, Ministry of Water and Power
Minimum Qualification: Bachelor's Degree in Civil Engineering or equivalent qualification from a recognized university/Institution.
Experience : Seventeen (17) years post qualification experience in Planning, Design or Operation of Dams, Irrigation System or Hydraulic Works in BS-17 and above or equivalent in a Government/Semi-Government / reputable private organization.
Maximum Age: 45 years plus 5 years general relaxation in upper age limit. (Note Age relaxation admissible to Government Servant is up to the age of 55 years).
Domicile: Punjab (both male & female candidates are eligible)
Submit online application through www.fpsc.gov.pk
Closing date for submission of application is Monday, 20th November, 2017.

Amir Tariq Zaman 
Secretary 
Federal Public Service Commission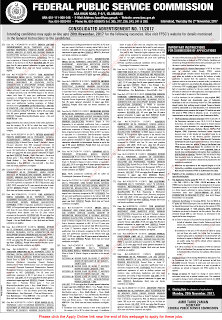 Add caption
This Civil Engineering Jobs in  Federal Public Service Commission (FPSC)  is best opportunity for experienced Civil Engineers. All Civil Engineering jobs in Islamabad is collected from different Newspapers on every Sunday and shared for our viewers so that that can apply for the job and get the employment in Federal Public Service Commission (FPSC)  as Civil Engineer. These Jobs are for the Building Engineering So you must have experience in Building and Highways 
We have prepared a group on Facebook where you can get the alerts about Jobs in Federal Public Service Commission (FPSC)  If you know any job opportunity in Private Sector both permanent Jobs and Jobs on contract basis you can contact us, you can inform us about the job.
If you are a fresh or experienced civil engineer living in Pakistan and seeking Civil Engineering Job in Building Engineering than don't post or share your CV here as we are not a part of the department and we are just sharing it so that you can get the opportunity to apply for this job.