Paving Streets and roads with asphalt can – in a not so distant future – become a thing of the past. The alternative?
Recycled Plastic
. And the
Netherlands
could be the first country to use this new type of road surface.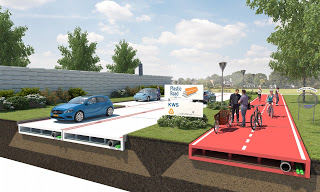 Plastic roads would last up to three times as much as asphalt. Image: VolkerWessels
Dutch company named VolkerWessels is a high profile group of companies having roots in Netherlands with experts and professionals from round the globe. The company has recently launched a project titled "Plastic Road".
The name seems interesting as one can't expect a plastic bearing a load of heavy vehicles, but this lightweight design, a fraction of the construction time, virtually maintenance free, and three times the expected lifespan, having 100% recycled material is an ideal sustainable alternative to the asphalt road structures.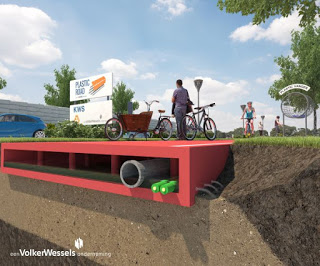 Plastic roads would last up to three times as much as asphalt. Image: VolkerWessels
The idea was still in a conceptual stage, but recently Rotterdam city council has shown its interest in paving its streets with plastic bottles and considering piloting a new type of road surface touted by its creators as a green alternative to asphalt.
The claims of VolkerWessels are that it requires less maintenance than asphalt and could withstand greater extremes of temperature. Roads could be laid in a matter of weeks rather than months and lasts about three times as long.
Sections can be prefabricated in a factory and transported to where they are needed, reducing on-site construction, while the shorter construction time and low maintenance will mean less congestion caused by roadworks. Lighter materials can also be transported more efficiently.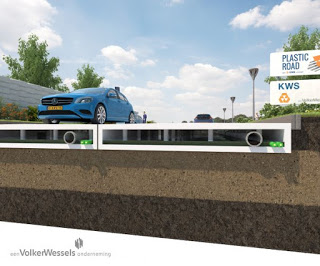 Green Roads
Another benefit is that the mentioned roads are hollow, which creates room for power cables and utility pipelines below the surface. Although the idea is still a concept, VolkerWessels expects to finish the first fully paved public road with recycled plastic within three years.