Arch dams through arch action transfers portion of the load of the water thrust horizontally to the side abutments and the other portion of that load is transferred to the dam foundation vertically by cantilever action.  
1.
Shah Abbas Arch near Kurit Dam – 14th Century

Shah Abbas Arch Dam is located in Tabas County, South Khorasan Province, Iran. It is 700 years old world's thinnest and one of the oldest arch dam  with only 1 meter crest width.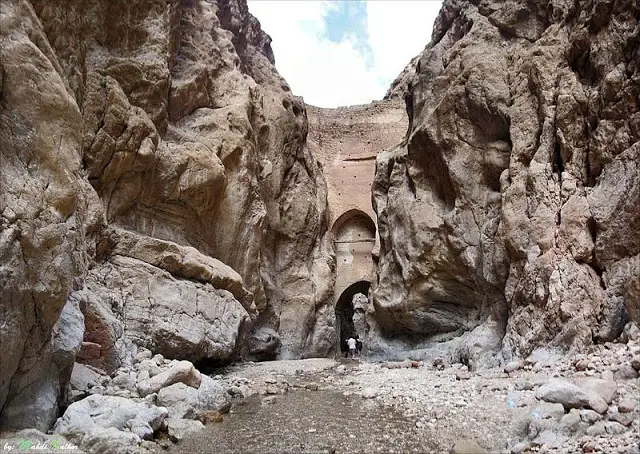 Shah Abbas Arch
2.
Glanum Dam –  Vallon de Baume Dam in france

Glanum Dam is from 1st century BC and was earliest known dam of its kind. Located near saint-remy-de-province in France this roman arch dam was constructed to supply water to the ancient destroyed Roman town of Glanum. The dam was composed of two curved paralled masonry walls, each 1 meter thick separated by a gap of 1.5 meter filled with earth and rubble masonry. It was 6 meter high with 3.5 meter thick. This dam was meant to collect water that was fed into an aqueduct that in turn supplied the Roman town of Glanum.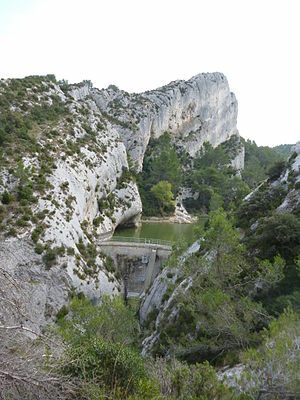 Glanum Dam
3.
Monte Novo Dam in Portugal 

It was also one of the oldest Arch dam built by Romansin 300 A.D. It was somewhere in Portugal. It was 5.7 meters high and 52 meter long having a long radius of 19 m. The dam was composed of curved ends that meet with wing walls near abutments supported by buttresses. 
4.
Dara Dam

It was also an arch Dam built by Romans in Turkey near old Mesopotamia. This dam was built way back in 560 AD. The dam was explored and discovered that it was 4 m wide and 5 m high masonry wall filled with Roman concrete core.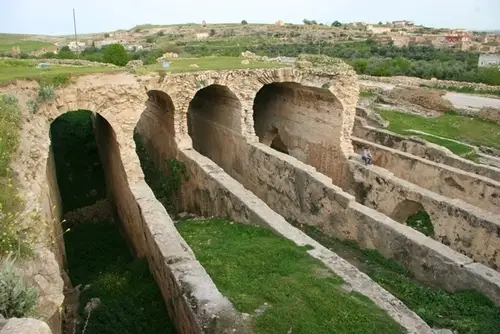 5.
Kebar Dam built by Mongols in Iran

Kebar dam is the oldest surviving arch dam constructed by Mongolians around 1300 AD near Kebar village of Iran. It is a masonry arch dam of 26 m high and 55 m wide and was meant for irrigation water supply. The curves of Kebar dam lies on wing walls that serves as abutments.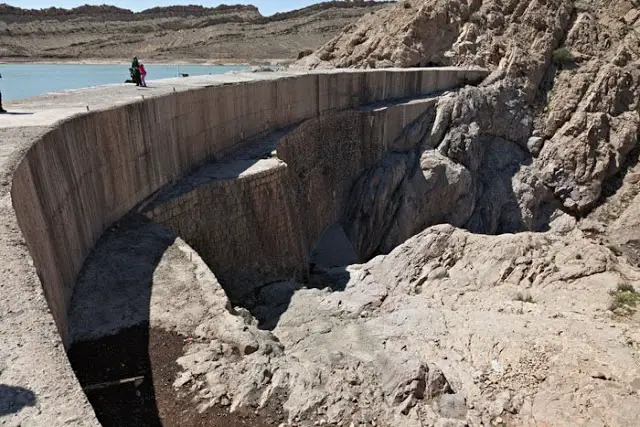 6.
Kurit Dam

Kurit dam is also an arch dam located in Tabas county in Iran built by Mangolians around 14th century. It is a masonry arch dam 60 meters high. It was the tallest arch bridge till 20th Century.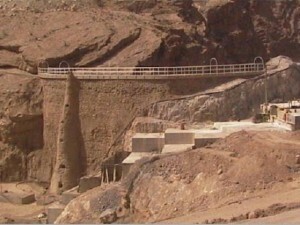 7.
Elche Dam in Spain

It was the first Arch Dam built in Europe, by Joanes del Temple around 1630s. The dam was 26 meters high and 75 meters wide. The arches of this dam also rests on two wing walls that acts as abutments.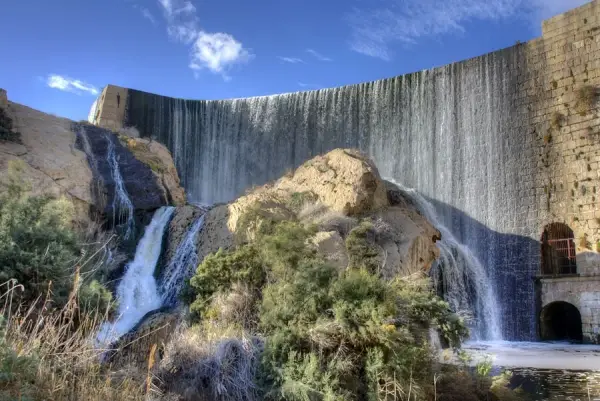 Elche Dam
8.
Salmon Creek near Juneau, Alaska – world's first variable radius arch dam

It is the first Modern age multi-purpose concrete arch dam belongs to the category of constant-angle arch variable radius dam. It is the world's first dam of its kind. It was built in 1914 at northwest of Juneau, Alaska. The dam was actually built to generate electricity required for the mining operations of a mining company in Alaska. However, the dam is till operational generating a a power of 6.7 MW. 

It is 53 m high with length of 197 m with only 6 m width at the top. It utilizes the concept of economy of the constant angle variable radius arch dam and save 20 % of the concrete due to its arch design. 
9.
Enguri Dam in Georgia

It is the world's second highest concrete arch dam on Enguri River in Georgia with a massive height of 271.5 meters. Its construction was started way back in 1961 and started operating in 1978. It has a total generating capacity of 1300 MW.