Join us on Facebook!
Stay updated with our latest construction news, tips, and updates.
Like our Facebook Page
Irrigation Department  of the Punjab is a Government deprtment with over with over 52,000 employees of the Provincial Irrigation Department. It is aimed to do river and riverain surveys, barrages construction work and canal works, tubewels flood control and protection schemes, drainage schemes and construction of reservoirs. 
In most of the cases the recruitment in Irrigation department is conducted through punjab public service commission for scrutinizing and screening the perfect candidates for the post.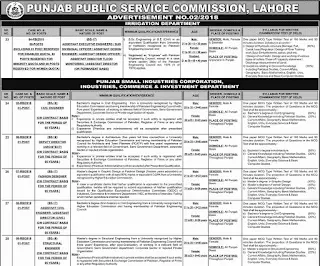 50 Posts for Permanent Job in Punjab Irrigation Department for Freshers & Experienced Civil Engineers 2018
Detail of Job
Company: Irrigation Department, Government of Punjab, Pakistan 
Type of Job: Permanent Basis
Title / Designation: Assistant Executive Engineer / Sub Divisional Officer / Assistant Design Engineer / Assistant Design Officer / Assistant Director Flood Monitoring / Assistant Director 
No. of Posts : 50 Posts
Qualification : B.Sc. Engineering or B.E. Civil or any equivalent qualification from university or institute recognized by Pakistan engineering council and 
Registered as "Engineer" with Pakistan Engineering Council, except in a case where section 28b of the PEC act, 1976 (V of 1976) applies.
Age : Male 21 to 30+5 = 35 years
Female : 21 to 30 +8 = 38 years
Disabled = 21 to 30 +10 = 40 years
Gender : Male, Female & Shemale 
Domicile : All Punjab Basis
Place of Posting : Anywhere in Punjab
Syllabus : One paper MCQ type written of 100 marks and 90 minutes duration. Syllabus is as under :- 
Design of Hydraulic structures, Barrages, Fall, Canal, head regulator / design of river training works spur Embankments, apron, pitch etc. 
Design of roof slab / design and working of various types of outlets / draw off / capacity statement / discharge measurement of canal. 
Questions relating to general knowledge including Pakistan studies, current affairs, geography, basic mathematics, english, urdu everyday science and basic computer studies. 
How to apply : 
Applicants are required to submit "online application form" by the closing date of 20-feb-2018 upto 12:00 am Midnight. Applicants should fill in the online application form carefully in the light of the guidelines and instructions mentioned in the advertisement for the said post and "Important instructions to candidates"
Note: negative markingi s there
It is mandatory for applicants to deposit : Rs. 600 under head "C02101-organizations of State-test fee realized by the Punjab Public Service Commission". In any branch of state bank of Pakistan or NBP or Government Treasury on or before the closing date
Contact 
Mirza Naseer Inayat
Secretary
042-111-988-722
www.ppsc.gop.pk
This Civil Engineering Jobs in  Irrigation Department, Lahore, Pakistan is best opportunity for experienced & Fresh Civil Engineers. All Civil Engineering jobs in Punjab Irrigation Department, Lahore, Pakistan is collected from different Newspapers on every Sunday and shared for our viewers so that that can apply for the job and get the employment in Punjab Irrigation Department, Lahore, Pakistan as Civil Engineer. These Jobs are for the Irrigation Sector So you must have experience in Irrigation Projects and Hydropower Sector. 
We have prepared a group on Facebook where you can get the alerts about Jobs in Punjab Irrigation department, Lahore, PakistanIf you know any job opportunity in Private Sector both permanent Jobs and Jobs on contract basis you can contact us, you can inform us about the job.
If you are a fresh or experienced civil engineer living in Pakistan and seeking Civil Engineering Job in Highway Engineering than don't post or share your CV here as we are not a part of the department and we are just sharing it so that you can get the opportunity to apply for this job.