Reinforced Concrete Structures are widely being constructed throughout the world and because of availability of raw materials required to design a mix, they lead other building materials like wood, stones etc. Mostly the code and guidelines used to design reinforced concrete structures is that of American Concrete Institute (ACI). In this post I will be sharing with you a book Titled "Design of Reinforced Concrete ACI 318-05 Code Edition".  The material of the book is written in such a manner as to interest students in the subject of Reinforced Cement Concrete and to encourage them to continue its study in the years to come. This book is used in many institutions as a text book for the three-credit course.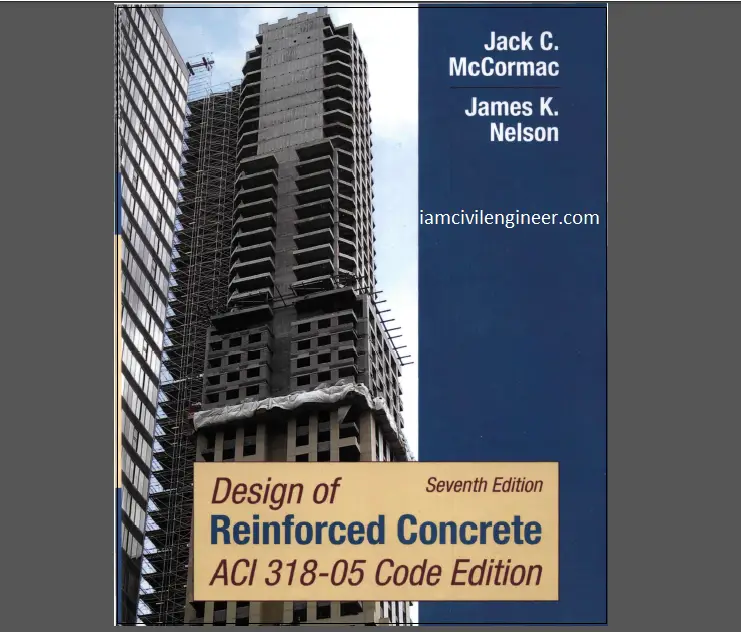 For this book there is a special website being built for the students and instructors, i.e. www.wiley.com/college/mccormac The website contains solution manuals, figures, tables, design aids etc.
The main feature of this book is the computer examples and problems, which utilizes computer programs like excel etc to solve many problems. The book comprises of 21 chapters with extension of appendixes as A, B and C and a glossary is provided at the end.
Chapter Details
The chapter details are as follows;
Chapter 1 deals with introduction to the design of Reinforced cement concrete, Chapter 2 is about flexural analysis of beams, Chapter 3 is about strength analysis of beams according to ACI code. Chapter 4 is about Design of Rectangular Beams and one-way slabs, Chapter 5 is about Analysis and Design of T Beams and Doubly Reinforced Beams, Chapter 7 is about Bond, Development Lengths, and Splices, Chapter 8 is about Shear and Diagonal Tension, Chapter 9 is about Introduction to Columns, Chapter 10 is about Design of Short Columns Subjected to Axial Load and Bending, Chapter 11 is about Slender Columns, Chapter 12 is about Footings, Chapter 13 is about Retaining Walls, Chapter 14 is about Continuous Reinforced Concrete Structures, Chapter 15 is about torsion, Chapter 16 is about Two way slab Direct Design Method, Chapter 17 is about Two way Slabs, Equivalent Frame Method, Chapter 18 is about Walls, Chapter 19 is about Prestressed Concrete, Chapter 20 is about FormWork and Chapter 21 is about Reinforced Concrete Building Systems.
Special Design procedure for Strut and Tie approach for deep and dapped end beam is given at the appendix C.
Book Title
Design of Reinforced Concrete ACI 318-05 Code Edition
Author(s)
Jack C. McCormac of Clemson University
James K. Nelson of Western Michigan Univeristy
 Publisher
John Wiley & Sons.
Download Link
The Content is for Members Only !!!
This Book is available to download only for our Bronze, Silver & Gold Level Members, you can simply click the button below to signup / login for your membership & Download.
Download this Book
Keywords for This book
Download Design of Concrete book, Download Design of Reinforced Concrete By Jack C. McCormac, Download Reinforced Concrete 7th Edition, Download Book for concrete structures, Download Pdf Reinforced Concrete by McCormac
Disclaimer:
The Book name and its title and all the things in it are the trademark of respective owner/author, we here on iamcivilengineer doesn't host the book neither uploaded it we are just sharing here the links to download; and are just for sharing it for student and education purpose; if you have any problem about
this link
or book you can contact us via contact us page or email at
[email protected]
Your Feedback
I hope you will like this sharing; stay tuned for the remaining updates about this topic; and don't forget to share it to your friend and buddies on facebook, twitter and gplus.
Popular Posts