Join us on Facebook!
Stay updated with our latest construction news, tips, and updates.
Like our Facebook Page
You can use different materials as pool pad for concrete including: interlocking foam tiles, tarpaulin, Intex ground cloth, carpet padding, pool liner pad, solid foam sheet, sand or any type of flooring underlayment. But make sure the material can protect pool liner in the long run.
Above-ground inflatable pools are an amazing feature to have in your house. You can set them up on grass, gravel, deck, or dirt.
But from all these type of pool padding, concrete is the best. It helps achieve a level and flat surface that can support great deal of weight.
It not just helps get a leveled surface but also protect the pool liner from grass. It can help sustain heavy loads. But concrete, being tough and hard, can tear the pool liner in the long run. That's why it's best to have some flexible pad underneath.
So, in our today's blog we'll show you some of the top materials that you can put under your inflatable above-ground pool on concrete: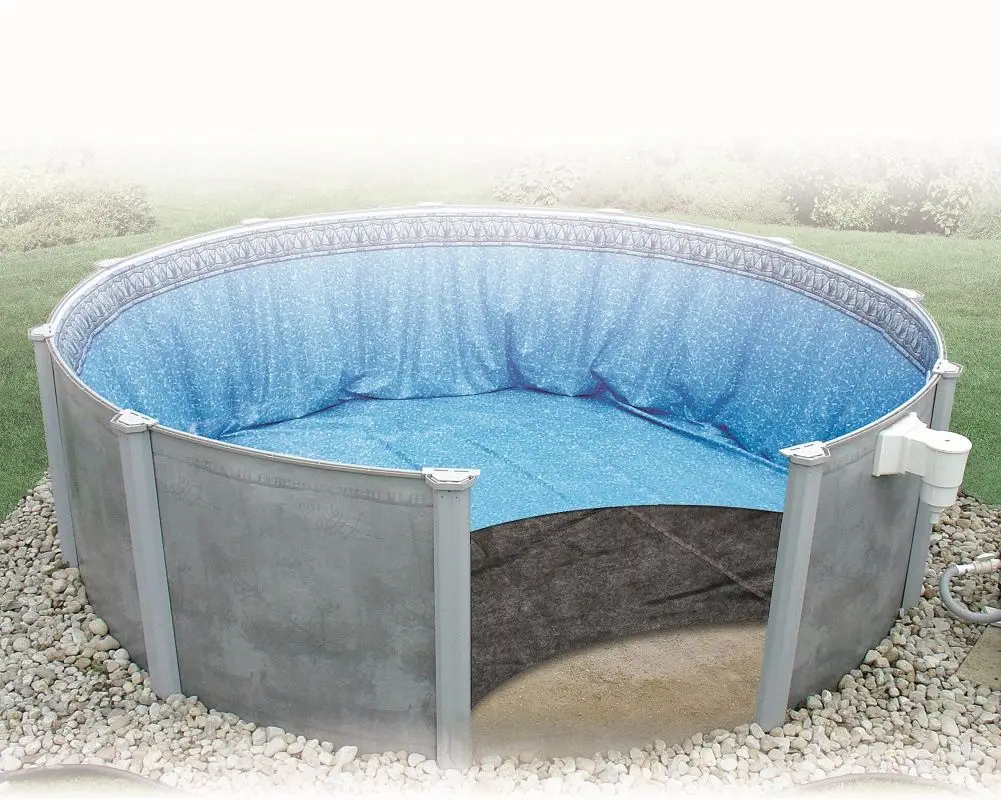 Table of Contents
Also Read: Can We Put Swimming Pool Above Ground On Pavers?
Pool liner Pads
Have you ever heard the term Gorilla pad or Rhino pad? That's the pool liner pad. These pads are made of geotextile material. They're heavy-duty material that can easily protect your pool liner.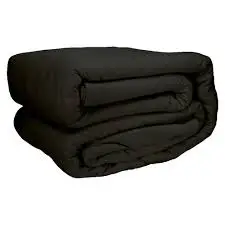 Pros
Made of durable material
They're mold, mildew, and acid-resistant.
They're made of a breathable material
Won't allow moisture to get trapped under the pool.
Provide adequate cushioning.
Cons
Only works best for concrete slabs.
They're not thick enough – might have to use multiple layers.
Quite expensive to purchase.
Also Read: 5 Tips for Maintaining Your Concrete Swimming Pool
Interlocking Mats or tiles
Have you ever seen the exercise or yoga mats? These interlocking foam tiles can be easily used as padding for your pool on concrete. They're a cost effective material that you can used for most types of Intex Pools.
These pads can protect the basement of your pool from wear and tear. They're made from high-density EVA foam and high-density polyethylene. You can also make the size and shape you desire. They come in range of colors and so you can mix the different colors to achieve eye-catching patterns.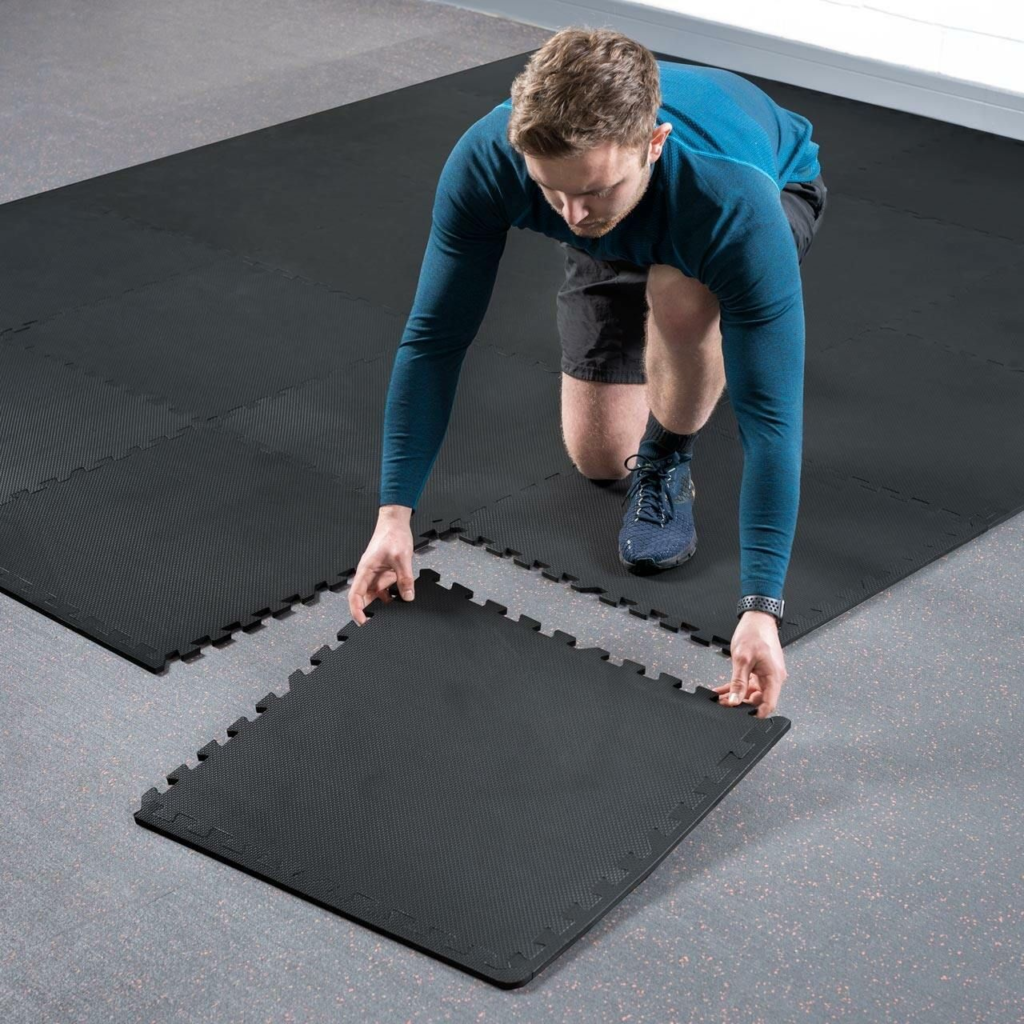 Pros
Are effective against mold or mildew.
Thick and soft padding can protect your liner from abrasions.
Affordable and easy solution.
Lightweight and so cutting and shaping is easy and simple.
Cons
Sometimes expensive – especially if you have a large pool.
Not breathable.
Intex ground cloth
If you're considering buying Intex Ground Pool, you'll probably get an Intex Ground cloth to be used as padding on concrete. And frankly speaking, it's quite a durable material that surely protects your pool liner. It acts as a barrier to protect the liner from harshness of concrete.
The installation is pretty easy. Being made of tarp material, it can protect the feet from abrasions and prevent them from taking dirt into the pool.
Pros
A cost-effective solution.
Easy installation
You can find perfect size for your pool.
Cons
Material is of low quality.
Thin
Short life span.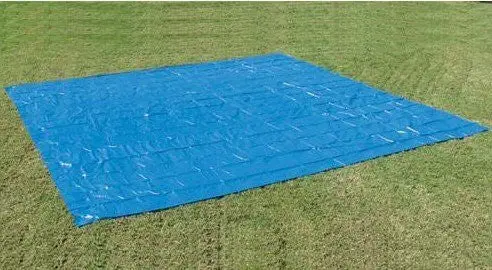 Solid Foam Sheet
Solid foam sheets are made of polystyrene or polyurethane and make and ideal material for insulation or padding for concrete. You can easily cut them to size or shape required for your pool. You can easily find the desired size and thicknesses.
Although you can choose to have thicker sheets to enjoy best results but in that case the cutting becomes trickier. Anyways, the solid foam sheet is among the most popular type of underlayment for inflatable pools.
But before you can purchase one for your pool, make sure it is marked as rated for outdoor use.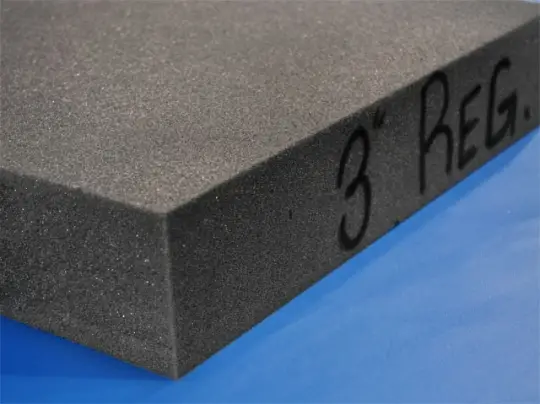 Pros
Available in range of thicknesses. Don't have to purchase multiple sheets.
It's a cost effective material.
You can cut and shape it to suit your pool.
Cons
Quite expensive.  More thickness – more cost.
Cutting or shaping is not easy.
Make sure to measure it correctly.
Carpet Padding
Whether you've got some old rug or carpet that you're ready to let go of, it's probably the best idea to put it under the pool. You can combine the carpet with the underlayment to get the best result. I recommend rug pads or memory foams as they make the best pool bad for concrete.
Although carpeting comes in variety of thickness and types of materials but still they're thick enough to be used as padding for pool. But still you have multiple layers of carpets to achieve desired cushioning.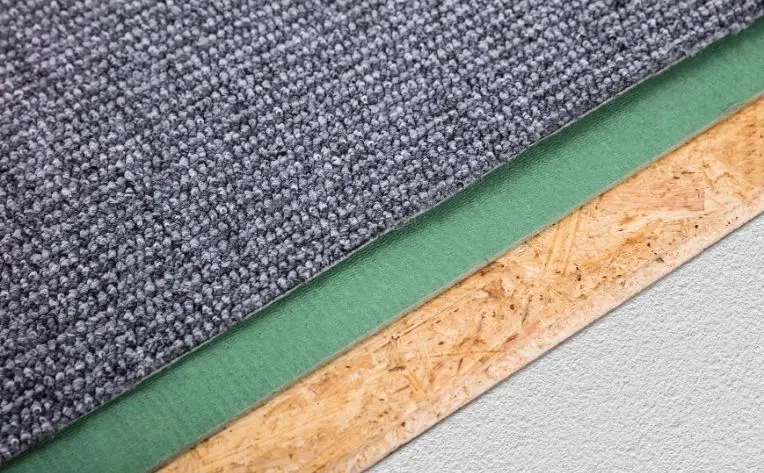 Pros
Carpet used for high-traffic areas are best type for padding.
They're durable and works best to protect pool liner.
They make your pool more comfortable.
Installation is pretty easy – cutting is simple.
You can recycle the carpets to save costs.
Cons
Carpets are not breathable.
You might need to have multiple layers.
Don't offer much protection than some other types of underlayment.
Flooring Underlayment
These flexible, thin, and spongy sheets are perfect material to have them under your above-ground pool. They can be easily spread to protect your pool from the abrasive concrete. Typically, the underlayment sheets are used to absorb sound and have good insulation.
But they can be an affordable option to lying beneath the pool. You can choose to have its multiple layers to get proper cushioning.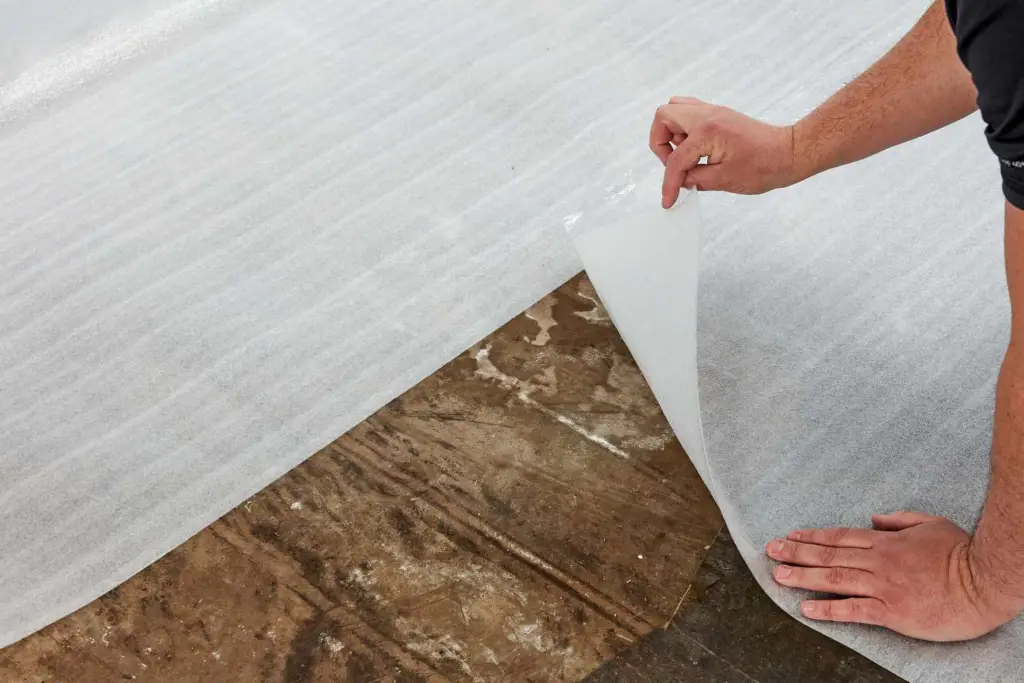 Pros
It's an affordable option
Very effective to protect the pool liner from abrasion.
You can easily cut it to match the size.
Cons
Being thin, you might need multiple layers.
Bit expensive sometimes.
Only provide little cushioning
Sand
Putting sand under the pool is a cheap and easy method. It works for most types of grounds but still it comes with certain pitfalls. First of all, you'll find sand everywhere around the pool and while you're ready to step into the pool you'll have your entire feet covered with sand fragments.
So, unless you love the gritty layer of sand; you still can have it under the pool over the concrete. But the second most annoying thing about sand is that it let the harbor pests and small animals that can crawl under your pool and enjoy the place to reproduce. And also don't forget that dogs and cats also enjoy using sand to dispose their litter. This entire thing will make foul smell out of your pool.
So, we can say that sand is not an ideal material to put under your inflatable pool.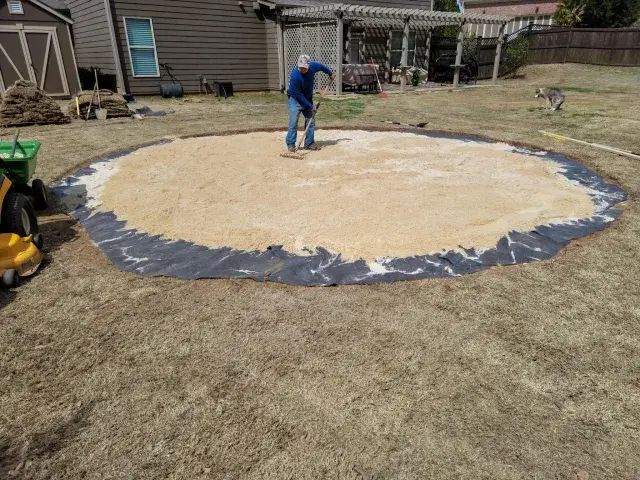 Pros
It is still easy and affordable option for you.
Sand is easily available.
You won't need to work hard to get it under the pool.
Cons
But the sand can be easily washed with water.
Insects or small animals can get into the sand to damage your pool liner.
Tarpaulin
Another affordable choice of pool pad for concrete is tarpaulin. It is quite a durable material to use for the pools and can easily withstand damage caused by water. You can find different thicknesses of tarp. It is typically made from polyester or tarred canvas.
Tarp is a flexible material and so it can be a viable option to protect the pool from insects or algae. The installation is pretty simple – just spread it and smoothen it under the pool assembly.
Pros
Quite a functional things to line under the pool.
No worries for damage or leakages
Cost-effective method overall.
Cons
Not suitable for long-term applications.
Doesn't provide adequate cushion.
Slight bumps or humps can go through the tarp.
Works best only when concrete is leveled.