Join us on Facebook!
Stay updated with our latest construction news, tips, and updates.
Like our Facebook Page
When it comes to renovating a kitchen, one of the most important decisions to make is choosing the perfect cabinet style. Not only do cabinets take up a substantial visual space, but they also play a crucial role in the functionality and aesthetic of the kitchen. But with so many styles to choose from, where does one begin?
Fear not, dear reader!
In this article, we delve into the nitty-gritty of kitchen cabinet styles and provide some tips to help you make an informed decision. From contemporary chic to rustic charm, we'll cover all the bases and leave no cabinet style unturned.
So sit back, relax, and get ready to be inspired as we take you on a journey through the world of kitchen cabinets!
Table of Contents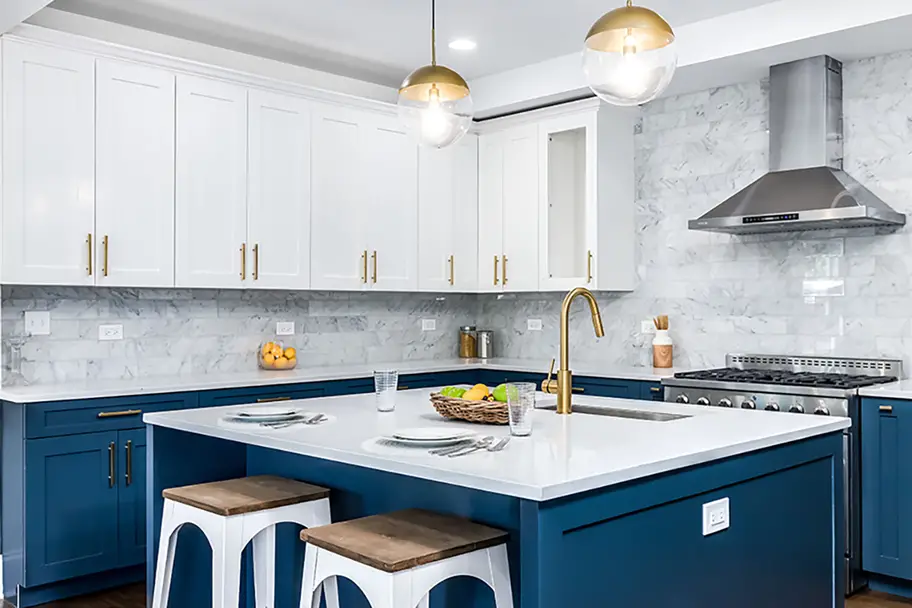 Why is it important to choose the right cabinets for your kitchen?
The kitchen cabinets you choose will influence the appearance of your kitchen space
They will determine the functionality of your kitchen
They will inform the storage space that you have in your kitchen
Overall, the importance of kitchen cabinets is broadly categorized into two i.e. function and aesthetics. For aesthetics, installing unique blue kitchen cabinets can help while the functional value can be achieved by the type of cabinets that you install.
Whether you are installing new cabinets for aesthetics or function, you must consider several factors to guide your decision.
Important factors to consider when choosing kitchen cabinets
Size of the kitchen
The most important factor to consider is the space that you have in your kitchen. It will influence the size and color that you choose for your cabinets. For example, if you have a large kitchen space, you can install large blue kitchen cabinets because they will fit well in your kitchen space.
However, small kitchen spaces need bright colors that will reflect light to make the space look even bigger.
Kitchen needs
There is a need that has necessitated kitchen remodeling. You need to define it and give it priority when remodeling your kitchen space. For example, if you are interested in adding more storage, you should focus on cabinets that have more storage space. Similarly, if you are interested in improving aesthetics, you can choose unique designs and colors like blue kitchen cabinets as your remodeling choice.
Most interior designers recommend a balance between function and aesthetics when remodeling the kitchen space.
The overall style of the kitchen
You also need to consider the existing theme and style of the kitchen. Your added cabinets should work to complement the existing theme. Adding blue kitchen cabinets should reflect the current theme and style of your kitchen to avoid a color clash.
You can check out ideas online to help you see if your chosen color will match the current style and theme of your kitchen.
Cost of remodeling
Your budget should also be a key factor of consideration. Explore all the options that you have against your budget to find the perfect remodeling plan.
Material
Here is a table outlining some popular kitchen cabinet materials and their approximate cost:
| Material | Approximate Cost |
| --- | --- |
| Wood | $100 – $1,500 per linear foot |
| Laminate | $50 – $200 per linear foot |
| Metal | $100 – $800 per linear foot |
| Glass | $200 – $800 per linear foot |
| Acrylic | $100 – $400 per linear foot |
| Thermofoil | $50 – $200 per linear foot |
Note: The cost of kitchen cabinets can vary greatly depending on the quality of the materials, the brand, and the size of the kitchen. The above costs are just rough estimates and may not reflect the actual cost of cabinets in your area. It's always best to get a quote from a local supplier for an accurate estimate.
Conclusion
These are the top considerations that you should put in mind when remodeling your kitchen space.