Join us on Facebook!
Stay updated with our latest construction news, tips, and updates.
Like our Facebook Page
The construction industry, if given name as deadliest industry would not be wrong. It is inherently a hazardous industry with special thanks to the heavy equipments and giant mechanized robots contributing significantly in the occurrence of fatal accidents at construction sites.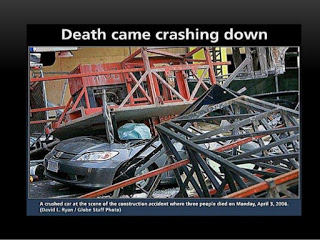 Construction Accidents : Risks and Types 
The fatalities caused by road accidents, agriculture is parallel to the fatalities caused by construction industry. Every 4th person working in the construction industry die at site while working out of the 10,000 workers.  These accidents and fatalities have monetary consequences on the project as well as to the client involved. A major share of the construction cost is spent for repairing structural failures and due to delays caused by the accidents at construction site. 
Due to these construction accidents the construction works and managers deal with danger every days, whether they are working on a small scale projects like single room remodeling project or construction of a 300 stories mega projects. 
Classification of Construction Accidents 
1.
According to the cause of occurance
2.
According to the nature of injury sustained
Partial disablement
Total disablement
Total disablement
Death
3.     According to the severity of injury
Minor accident
Major accident
Accident hazard
Types of Construction Accidents
Unsafe working conditions
It is a condition in which the physical layout of the workplace or work locations, the status of tools, equipment, and / or material are in violation of contemporary safety standards
Unsafe working conditions
Falling from heights
Falling accidents typically occur when a worker steps to or backwards an open-sided floor or slab and focuses on the work. Slips, trips and low falls are the most common forms, and usually cause minor injuries (e.g. musculoskeletal disorders, puncture wounds, etc.). by contrast, fatal accidents can be caused by falls from height, and in most cases workers suffer from head or shoulder wounds. Lack of opening protections, inadequate edge protections, may lead to potential falling hazards. 
Falling from heights
Falling objects
In the site when an object is dropped onto you from above without any warning or the ability on your part to move out of the way causing an injury to you which makes it impossible for you to continue working. Injuries could vary from minor cuts and bruises to more serious crush injuries and head and brain injuries. 
Falling objects
Electrocutions and power tool accidents
Electrocutions can be caused by body contact with power cables, cable strikes on underground utilities, or defective of ground-fault protection. Power tool accidents, such as nail gun injuries, are usually caused by inappropriate use or inadequate eye protection. Furthermore, improper guards in place on power tool management may lead to more severe injuries. 
Excessive noise / vibrating tool hazards
Noise and vibrating tools are also a cause for concern whilst working in the construction industry as excessive noise from power tools can cause hearing loss or problems such as tinnitus (ringing in the ears). The vibration from power tools can cause nerve and tendon damage to the hands, arms and wrists which if experienced can be extremely debilitating with reduction and sometimes total loss of grip strength. 
Scaffolding accidents
Scaffolding accidents cause large numbers of deaths and injuries every year. Most accidents are caused by scaffold equipment failure, inadequate scaffolding safety training, lack of personal fall protective system, or improper scaffolding equipment operation. In addition, materials and tools falling off scaffolding may also cause injuries. 
Scaffolding accidents
Stepladder misuse
The majority of falls in construction accidents are due to stepladder misuse or failures. Ladder injuries include loss of balance, improperly ladder setting up, loss of balance, and exceeding the ladder weight capacity etc. 
Construction vehicle accidents
Large construction equipment (e.g. cranes, forklifts, dump trucks, road graders and concrete mixtures, etc.) may become potential dangers on a construction site. Due to their weight and size, workers and drivers can be seriously injured or killed in an accident. In some cases, drivers may not have competent driving skills, or their visibility may be limited due to site constraints. 
In a research by R.A. Haslam et al. on contributing factors causing construction accidents revealed that most of the construction accidents were due to problems arising from workers or the work team (about 70%); while others include workplace issues, shortcomings with equipment (including PPE); problems with suitability and conditions of materials and deficiencies with risk management. 
Among the most recent construction accidents that have been reported on New York times includes the partial collapse of a construction crane in Miami. The collapse was caused because of Category 5 hurricane that caused crane collapse at 2 different spots in the city. In another incident a 59 year old worker named Wilfredo Enrique died after falling from scaffolding at the site of the residential development in Brooklyn which was reported as the 11tst construction death this year. 
Key take-a-ways??? 
Even with all the safety education, you just have a monetary lapse while trying to fix something. And it just takes a few seconds of not slowing down and following procedure. 
Rescue and recovery of the victims is always of primary importance, and often requires engineering knowledge for stabilization and extraction. For this reason the rescue team always requires the services of a structural engineer. After the victims have been cared for, the accident area is evaluated, and unsafe conditions, such as unstable debris or dangerous materials, are mitigated so that investigation and clearing of the site can be proceed.