Join us on Facebook!
Stay updated with our latest construction news, tips, and updates.
Like our Facebook Page
Civil Engineering Jobs in The Lahore Knowledge Park Company (LKPC) is a public sector large scale organization registered with the SECP under Section 42 (not-for-profit) of the Companies ACT 2017 through the Higher Education Departement (HED). Government of the Punjab with the vision and aim to develop Lahore Knowledge Park by Establishing Campuses of internationally well-reputed universities / institutions to drive growth and knowledge ecosystem.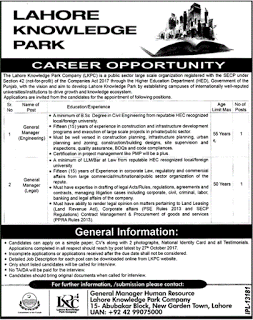 Application are invited from the candidates for appointment on 
Name of Post : General Manager (Engineering) 
Education / Experience : 
A minimum of B.Sc. (Degree) in Civil engineering from a reputable HEC Recognized University local / foreign. 
Fifteen (15) years of experience in construction and infrastructure development programs and execution of large scale projects in private / public sector. 
Must be well versed in construction planning infrastructure planning, urban planning and zoning; construction/building designs, site supervision and inspections, quality assurance, BOQs and code compliances. 
Certification in Project management like PMP will be a plus. 
Age Limit : 55 Years 
No. of Posts: 1 years
Candidates can apply on a simple paper, CVs along with 2 photographs, national id card and testimonials applications completed in all respect should reach by post latest by 27th October, 2017. 
Detailed job description for each post can be downloaded online from LKPC website. 
General Manager Human ResourceLahore Knowledge Park Company 15-Abubakar Block, New Garden Town, Lahore, UAN: 92-42-99075000
This Civil Engineering Jobs in  Lahore Knowledge Park Company, Lahore, Pakistan is best opportunity for experienced Civil Engineers. All Civil Engineering jobs in Lahore Knowledge Park Company, Lahore, Pakistan is collected from different Newspapers on every Sunday and shared for our viewers so that that can apply for the job and get the employment in Lahore Knowledge Park Company, Lahore, Pakistan as Civil Engineer. These Jobs are for the Building Sector So you must have experience in Highway Projects. 
We have prepared a group on Facebook where you can get the alerts about Jobs in Lahore Knowledge Park Company, Lahore, PakistanIf you know any job opportunity in Private Sector both permanent Jobs and Jobs on contract basis you can contact us, you can inform us about the job.
If you are a fresh or experienced civil engineer living in Pakistan and seeking Civil Engineering Job in Highway Engineering than don't post or share your CV here as we are not a part of the department and we are just sharing it so that you can get the opportunity to apply for this job.