Join us on Facebook!
Stay updated with our latest construction news, tips, and updates.
Like our Facebook Page
There are many individuals within the construction industry who will, at some time in their careers, become professionally involved in either litigation or arbitration or adjudication. The laws which are applied in the construction industry are both of a general and a specialist nature.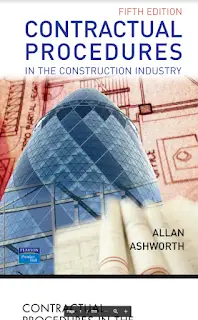 They are general in the sense that they embrace the tents of law appropriate to all legal decisions and are special since the interpretation of construction contracts and documents requires a particular knowledge and understanding of the construction industry. Note, however, that the interpretation and application of law will not be contrary to or in opposition to the established legal principles and precedents found elsewhere.
It is appropriate at this stage to consider briefly the framework of the English legal systems.
Title of the Book
Contractual Procedures in Construction Industry
Fifth Edition
Author of the Book
ALLAN
ASHWORTH
Contents of the Book
Part 1 Contract LAW
1. The English Legal System
2. Legal Aspects of Contracts
3. Discharge of Contracts
4. Remedies for Breach of Contract
5. Settlement of Disputes
Procurement
6. Forms of Contract
7. Contract Strategy
8. Contract Procurement
9. Contract Selection
10. Contract Documents
11. Design and Build
12. Procurement in the Twenty-First Century
13. Lean Construction
Process and Parties
14. Partnering and Supply Chain Management
15. The Construction Process
16. Parties Involved in the Construction Industry
17. Site Communication
18. Constructing Excellence in the Built Environment
19. Health, Safety and Welfare
20. Sustainable Construction
21. Introduction, Articles of Agreement, Apendix
22. Quality of Working during construction
23. Costs of Construction
24. Time Factor of Construction
25. Works by Other Parties
26. Injury and Insurance
27. Fluctuations in Costs
28. Financial Matters
29. Clauses of a General Nature
Subtract Conditions
30. JCT Nominated Subcontract Documentations
31. JCT Nominated Subcontract Conditions
32. Domestic subcontract conditions
Other Contract Conditions
Agreement for Minor Building Works
JCT Intermediate form of Building Contract
Download the Book
Download the Contractual Procedures in Construction Industry by ALLAN ASHWORTH free PDF
The Content is for Members Only !!!
This Book is available to download for our bronze, silver & gold level members, you can simply click the button below to signup / login for your free membership and download the book now.
Download this Book Now