If you are a civil engineer are required a job in Mianwali Pakistan than this job is for you. Civil Engineering jobs in Namal Education foundation. Namal Education foundation is a very prestigious organization that has hundreds of employees. It is a well off job for civil engineer. If you have experience of 7 to 10 years as a civil engineer and know how to build Roads, infrastructure than this job is for you.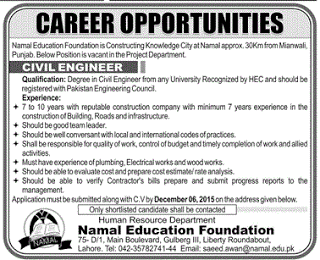 Company Profile 
Namal Education Foundation
A constructing knowledge city at Namal approx. 30 km from Minawali Punjab. Below position is vacant in the Project Department.
Civil Engineer 
Degree in Civil Engineer from any university Recognized by HEC and should be registered with Pakistan Engineering Council.
Experience: 
7 to 10 years with reputable construction company with minimum 7 years experience in construction of Building, Roads and infrastructure.
Should be good team leader.
Should be well conversant with local and international codes of practice.
Shall be responsible for quality of work, control of budget and timely completion of work and allied activities.
Must have experience of plumbing, electrical works and wood works.
Should be able to evaluate cost and prepare cost estimate / rate analysis.
Should be able to verify contractor's bills prepare and submit progress reports to the management.
Application must be submitted along with C.V. by December 06, 2015 on the address given below;
Human Resource Department 
Namal Education Foundation
75-D/1, Main Boulevard, Gulberg III, Liberty Roundabout, Lahore
Tel: 042-35782741-44
Email: saeed.awan@namal.edu.pk