Applications are invited from the Punjab domiciles suitable candidates for the post at Nishtar Hospital, Multan. The below mentioned posts are sanctioned for  the financial year 2018-19
Detail of the Job
Name of Job / Post : SDO (Civil Engineering)
Pay Scale: BPS-17
Age limit: 25-45
Qualification / Experience: BSc (Civil Engineering) from HEC recognized university  B.Tech or equivalent.
Five years of experience.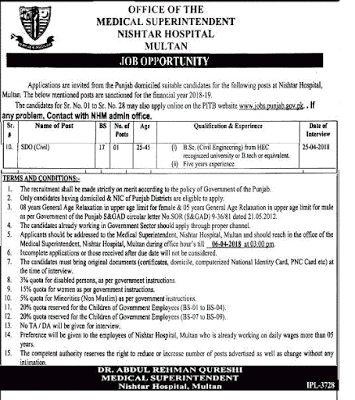 SDO – Civil Engineering Jobs in Nishtar Hospital, Multan (April 2018) 
How to apply for the Job?
Date of Interview: 25th April, 2018
Applications addressed to Medical superintendent, Nishtar Hospital, Multan should reach in the office during office hours
till 6th April, 2018 around 3:00 pm.
Candidates must bring original documents (at the time of interview) .
Dr. Abdul Rehman Qureshi
Medical Superintendent
Nishtar Hospital, Multan
This Civil Engineering Jobs in  Nishtar Hospital, Multan is best opportunity for Experienced BSc Civil Engineer / B.Tech Civil Engineer. All Civil Engineering jobs in Punjab is collected from different Newspapers on every Sunday and shared for our viewers so that that can apply for the job and get the employment in Nishtar Hospital, Multan as SDO Civil Engineer. These Jobs are for the Building Engineering So you must have experience in Building and Highways 
We have prepared a group on Facebook where you can get the alerts about Jobs in Nishtar Hospital, Multan If you know any job opportunity in Private Sector both permanent Jobs and Jobs on contract basis you can contact us, you can inform us about the job.
If you are a fresh or experienced civil engineer living in Pakistan and seeking Civil Engineering Job in Multan than don't post or share your CV here as we are not a part of the department and we are just sharing it so that you can get the opportunity to apply for this job.