Join us on Facebook!
Stay updated with our latest construction news, tips, and updates.
Like our Facebook Page
Can you install black kitchen cabinets in your home? This is a question that only bold homeowners can answer yes to. Most homeowners are very careful about the type and color of kitchen cabinets that they choose, thus the reason why we always end up with nearly the same color schemes in most kitchens.
However, if you explore dark colors such as black, you will realize that there is a hidden potential in these colors.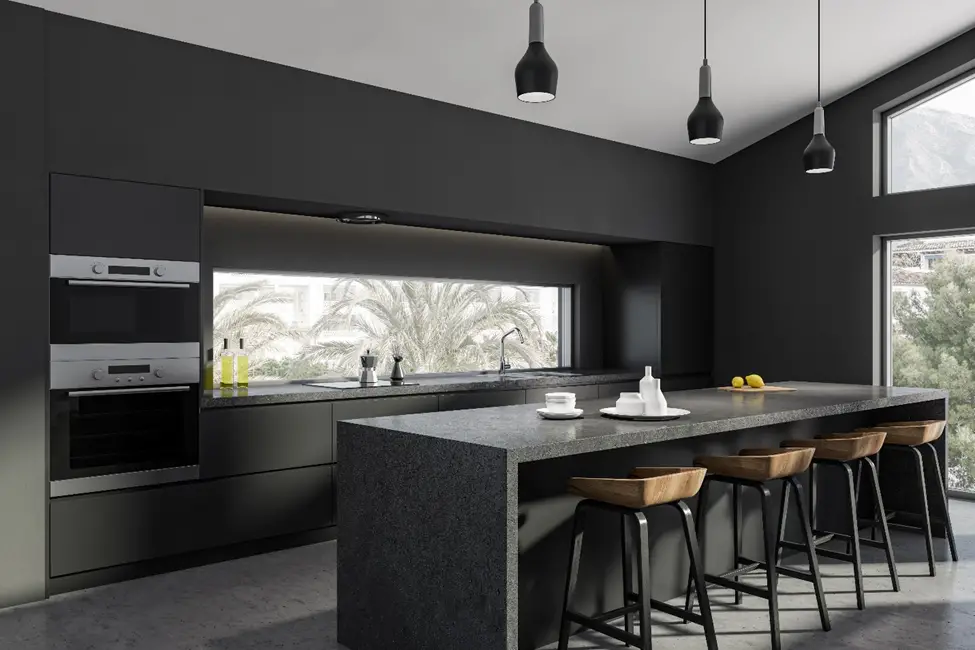 Why do people fear black kitchen cabinets?
There are multiple reasons why homeowners tend to choose brighter colors as opposed to dark color options.
Bold
One of the top reasons is that they are bold and it only takes a bold homeowner to choose such a color. Boldness is an attribute that a few homeowners have, which influences their choice of colors that they can have in the kitchen.
Lack of space
Another reason why homeowners are afraid of black kitchen cabinets is that they require a lot of flooring space. Remember, black doesn't reflect light, thus makes the kitchen look smaller. So, it is hard to have such a color in a small kitchen.
Negative perception
There is also a negative perception of the color black. Many people perceive it as dull and extremely boring. Well, you can never know the reality of this unless you give it a try in your home or visit a home that has beautifully-placed black kitchen cabinets.
Why should you consider black kitchen cabinets?
Now that you already know some of the reasons why many people fear black kitchen cabinets, it is equally important to know some of the benefits that can convince you to choose his color scheme.
Elegant
Black is an elegant color that is only used by homeowners who are attracted to fine finishes in the kitchen. Therefore, you will be making your kitchen appear elegant by installing cabinets of this color.
A sign of affluence
Since black is a bold color, it signifies wealth and affluence. If you want kitchen cabinets that can help you make a bold statement, then you should consider dark colors such as black. You will be perceived as rich even when you are not.
Easy to maintain
Black kitchen cabinets are easy to maintain. This is so because they do not show dirt or signs of damages easily. Therefore, you can schedule maintenance based on your timing.