The concepts of BIM Cloud technology is not new and we are already witnessing the utilization and application to these computing innovations in the field of construction. The construction projects are perceived as the most complex, unforeseen and way too pricey at times. The success of any construction projects to my experience depends more on pre-construct phase rather than actual site execution. Any mistake or over-look during the execution would not cost much when compared with an error at the initial and pre-construct phase.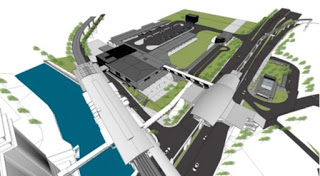 Malaysia to be the First Country of Asia to Experience Benefits of BIM and Cloud Technology in Mass Rapid Transit Project
The construction projects always rely on the inputs from number of collaborators or team members including contractors, consultants, planning & acquisition sections, client supervisory departments and many others. Exchange of construction documents including drawings, design calculations and various specifications and standards has been a troublesome problem from pre-feasibility phase towards the completion of the project. The lack of communication and conveyance of information between these parties create series of erroneous mistakes that not only causes construction delays but also significantly produces monitory losses. 
Lets now discuss about the core concepts behind what we would going to discuss with you in detail of a mega project in Malaysia. The concepts we would deal is BIM and cloud technology that is exclusively used in the project under consideration. BIM is an acronym for Building Information Model; in a layman terms BIM is basically equivalent to construct a building or an infrastructure project in a digital world before actual execution at site. Yes!, BIM consists of a 3D model on actual scale dimensions including the actual geometry and architecture of a structure from the foundation to the top roof.  There are various softwares out there in the Market that would help you in creating a BIM for your project. 
BIM Model would help
in understanding the steps or activities involved in a construction project, would help in tracking the design phases as well as execution phases, would help in 3d visualization of the project. One of a significant advantage of using BIM model is change management. The data of a project is stored in a BIM model file which means any significant change in one section or feature would be replicated automatically in all the sections and elevations contained therein. Not only this the change would be automatically transmitted to the collaborators of the project with the cloud technology. 
Now let me introduce to you the basic concept of cloud technology, actually this feature is just as simple that you instead of storing your data on a PC or laptop would store it on a cloud hosting server which could be accessed by all the team members with both mobile applications (iOS / appstore) or through interenet on laptops and pcs. 
Simulation of a building project is one other significant benefit for having a BIM in your project. Because BIM model is not merely consist of architectural data but also the actual structural elements like columns and beams, frames which would help you in simulating the project prior to the actual construction for ensuring the safety. 
In Kuala Lumpur, Malaysia has just experienced the benefits and remunerations of cloud-based collaboration through BIM Level 2. The 51 kilometer Klang Valley Mass Rapid Transit (KVMRT) project passes through Sungai Buloh-Serdang-Putrajaya (SSP) line. 
Microsoft Azure clouding hosting system of Microsoft Global ISV has Bentley Systems BIM applications that has helped to complete the project on-time and within budget, benefitting from a projected 35 percent productivity increase in the design, construction and operation of this infrastructure through seamless information sharing and collaboration. 
In a statement today, the company said the Azure-hosted Bentley Systems platform enabled MRT Corp to increase precision of construction, reduce instances of design rework and to improve safety standards by enabling seamless synchronization and information exchange between external vendors.
It has enabled all project disciplines to work dynamically using a federated model for coordinated design, despite the participation of numerous external vendors and decentralized information on this complex project, it said.
You would also love to read about the top innovative technologies in construction this year 2017. 
MRT Corp director of planning and design Poh Seng Tiok said one of the key challenge faced with any mega civil construction project is ensuring seamless information exchange, and real-time collaboration among stakeholders, regardless of the platforms they are using.
"The probability for error is high if information is not managed on a common data environment, especially in a highly collaborative project like ours.
"These types of errors could lead to construction delays and increased costs due to change orders and rework to rectify issues," he said.
It is the first metro project in Asia to adopt BIM level 2, an advanced way of working that leverages digital collaboration and has become a standard for many leading governments for public-sector projects.
He said with this implementation, all parties involved can use their own 3D BIM models, but design information is shared through a common data environment, which enables any organisation to combine data with their own to create a federated BIM model.
"More importantly, embracing digital has enabled MRTC to improve our productivity, while also enabling our workers to acquire new skillsets necessary to adhere to the BIM standards which will be mandatory in civil engineering projects from 2020," he said.
The KVMRT SSP line project has been selected as a finalist in the BIM Advancements in Rail and Transit category in Bentley's 2017 Be Inspired Awards programme.
The annual awards program honors the extraordinary work of Bentley users advancing infrastructure design, construction, and operations throughout the world.
MRT's project is among the 51 innovative projects which will be presented as part of related infrastructure forums at Bentley's The Year in Infrastructure 2017 Conference, October 10 until October 12 in Singapore.
Bentley Systems Asia South regional executive vice president Kaushik Chakraborty said the KVMRT project is an example of how the world's infrastructure projects are undergoing digital transformation through the power of cloud services to improve project delivery and asset performance.
"Together with Microsoft, we are pleased to see organizations tapping the power of the cloud to realize the potential of real-time business insights and collaboration to deliver greater efficiency in a highly complex industry," he said.