Join us on Facebook!
Stay updated with our latest construction news, tips, and updates.
Like our Facebook Page
Tameer Construction (PVT) Ltd. A concern of Izhar Group of Companies, dealing in diversified fields of building construction for its needs and expansion in work, is looking for following dynamic professionals as part of their team at Head Office in Lahore and for its projects at various location in Pakistan.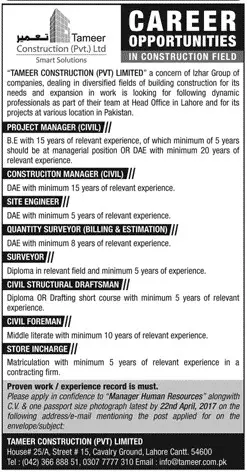 1.
Name of Position: Project Manager (Civil) B.E. with 15 years of relevant experience, of which minimum of 5 years should be at managerial position or DAE with minimum 20 years of relevant experience.
2.
Construction manager (Civil): Dae with minimum 15 years of relevant experience. 
3.
Site Engineer: DAE with minimum 5 years of relevant experience. 
4.
Quantity Surveyor (Billing & Estimation) : DAE with minimum 8 years of relevant experience. 
5.
Surveyor: Diploma in relevant field and minimum 5 years of experience
6.
Civil Structural Draftsman
Please apply in confidence to "Manager Human Resources" alongwith C.V & one passport size photographs latest by 22 April, 2017 on the following address/e-mail mentioning the post applied for on time envelope / subject. 
Tameer Construction (Pvt) Ltd.