Join us on Facebook!
Stay updated with our latest construction news, tips, and updates.
Like our Facebook Page
Civil Engineering Conventional and Objective type by R.S. Khurmi and J.K. Gupta needs no introduction in the field of Civil Engineering as it is well known, popular and famous. The Book is best for the students of U.P.S.C. (Engg. Services); I.A.S. (Engg. Group); B.Sc. Engg.; Diploma and other competitive courses.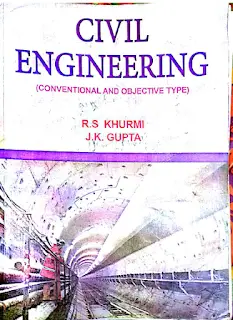 After the first edition in 1984 the book is a must to go through for any competitive exams related to civil engineering and construction. The book has 16 wide range of sections in which all the details are given at the start of each chapter with MCQs at the end.
Title of the Book
Civil Engineering Conventional and Objective Type
Author of the Book
R.S. Khurmi
J.K. Gupta
Contents of the Book
1. Engineering Mechanics
2. Strength of Materials
3. Hydraulics and Fluid Mechanics
4. Hydraulic Machines
5. Surveying
6. Building Materials
7. Irrigation Engineering
8. Public Health Engineering
9. Highway Engineering
10. Railway Engineering
11. Soil Mechanics and Foundations
12. Building Construction
13. Concrete Technology
14. Reinforced Cement Concrete Structures
15. Steel Structures Design
16. Construction Management
Download the Book
The Content is for Members Only !!!
This Book is available to download for our Bronze, Silver & Gold Level members, you can simply click the button below to signup / login for your Membership and download the book now.
Download this Book