Join us on Facebook!
Stay updated with our latest construction news, tips, and updates.
Like our Facebook Page
Danish-Icelandic artist Olafur Eliasson has created a bridge spanning a Copenhagen canal, Denmark which features a series of wire masts based on ships\' rigging
the Cirkelbroen (Circle Bridge) by Olafur Eliasson spans the Christianshavn Canal to connect the district\'s Christiansbro neighbourhood and Appleby\'s Square on either side of the water.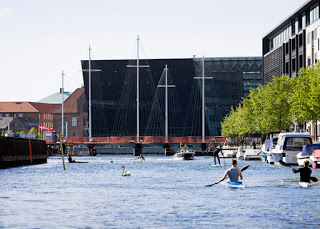 The 40-metre-long footbridge is made from five interconnected circular platforms.
Each of the irregularly sized circles features a tall mast in reference to the boats that sail Copenhagen\'s waterways. Over 110 tensioned wires are threaded between the base of the bridge and the tips of five poles.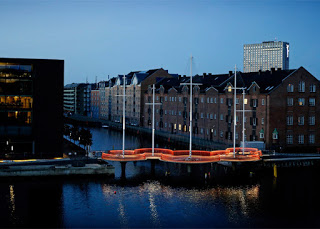 \"Fish cutters were often moored in the harbour right next to each other, and sometimes it seemed as if you could actually walk across the harbour by going from boat to boat.\"
\"While I was working on the bridge, I picked up inspiration from this place and it made me think of fishing boats from my childhood on the island,\" said Eliasson.
The central platform is articulated to allow the bridge to swing back on itself, creating a nine-metre gap for passing boat traffic while smaller boats such as kayaks can pass below the elevated podiums.
Red LEDs set in the balustrades illuminate the structure at night and are synchronised to turn on and off with the area\'s street lights. Curving Brazilian Guariuba wood handrails are affixed to the top of a crisscrossing arrangement of red railings.