Join us on Facebook!
Stay updated with our latest construction news, tips, and updates.
Like our Facebook Page
Pre-tensioning and Post-tensioning is one of the widely used methods to enhance the load carrying capacity of the concrete structures like bridges, flyovers, dam spillways etc. After completing the pre-stressing the ducts or sheath pipes in post-tensioning is to be grouted with a suitable mixture with 24 hours after post-tensioning.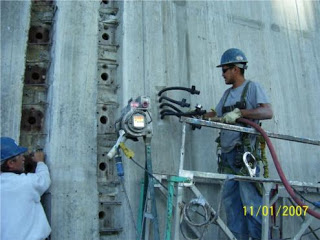 Grouting of Post-tensioning Tendons 
The main objectives of grouting these ducts or sheath pipes in post-tensioned concrete members  are :-
(i)
To prevent corrosion of the tendons,
(ii)
To ensure efficient transfer of stress between the tendons and the concrete member, 
(iii)
To improve the serviceability and strength characteristics of the concrete member. 
The grouting is a very sensitive and receptive process that needs careful supervision and inspection. Following are some of the points that must be complied while practicing the grouting of the post-tensioned concrete members :- 
1.
In the grout mix, the quantity of sand or filler material should not be more than 30 percent of the mass of cement. 
2.
The chloride content in the grout from all sources should not exceed 0.1 percent by mass of the cement. 
3.
Material of grout should be batched by mass. 
4.
Optimum water / cement ratio is 0.40 without admixture and with admixture can go upto 0.35 
5.
The grout should be kept in slow continuous agitation until it is ready to be pumped into the tendon ducts. 
6.
Grout should be mixed for minimum of 1 to 2 minutes but not more than 4 minutes. 
7.
All the piping, pumping and mixing equipment should be thoroughly washed with clean water after each series of operations. 
8.
Ducts should be completely filled with grout after injection. 
9.
Ducts should be grouted at a continuous and steady rate of 6 m / min to 12 m / min for horizontal ducts and 2 to 3 m / min for vertical ducts. 
10.
Grouting pressure should not exceed 2 N / mm2 
11.
Grouting should continue until the fluidity or density of grout flowing from free ends and vent openings is same as that of original grout. 
12.
After closing all the vents the pressure of 0.5 N / mm2 should be kept for 5 minutes. 
13.
Vertical and inclined ducts should be grouted from the lowest points. 
14.
Maximum length grouted in one operation being 50 m. 
15.
Effectiveness of grouting should be checked by non-destructive testing such as gamma radiography.