Join us on Facebook!
Stay updated with our latest construction news, tips, and updates.
Like our Facebook Page
Since our beginnings, we have sought shelter as protection from the elements. Yet, even today, after centuries of technological advances in materials and construction techniques, we are still confronted by nature's elements contaminating our constructed shelters. This is not due to a lack of effective waterproofing systems and products.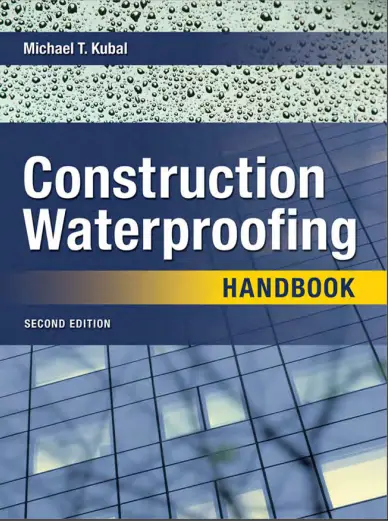 Construction Waterproofing Handbook for free
Waterproofing problems continue to plague us due to the increasing complexity of shelter construction, a disregard for the most basic waterproofing principles, and an inability to coordinate interfacing between the multitude of construction systems involved in a single building. Adequately controlling groundwater, rainwater, and surface water will prevent dam-age and avoid unnecessary repairs to building envelopes. In fact, water is the most destructive weathering element of concrete, masonry, and natural stone structures.
Water continues to damage or completely destroy more buildings and structures than war or natural disasters. Water and moisture infiltration is also responsible for mold formation and the related health issues of building occupants. Waterproofing techniques preserve a structure's integrity and usefulness through an understanding of natural forces and their effect during life-cycling. Waterproofing also involves choosing proper designs and materials to counter the detrimental effects of these natural forces.
Title of the Book
Construction Waterproffing
Handbook
Second Edition
Author of the Book
Michael T. Kubal
Contents of the Book
Chapter 1 : Waterproofing Principles – The Building Envelope
Chapter 2: Below-Grade waterproofing
Chapter 3: Above-Grade Waterproofing
Chapter 4: Residential Waterproofing
Chapter 5: Sealants
Chapter 6: Expansion Joints
Chapter 7: Admixtures
Chapter 8: Remedial Waterproofing
Chapter 9: Mold
Chapter 10: The building Envelope: Putting it all together
Chapter 11: Life Cycles: Quality, Maintainance, and Warranties
Chapter 12: Envelope Testing
Chapter 13: Leak Investigation and Detection
Chapter 14: Safety
Chapter 15: Guide Specifications for Waterproofing
Chapter 16: Resources
Download the Book
The Content is for Members Only !!!
This Book is available to download only for our Bronze, Silver & Gold Level Members, you can simply click the button below to signup / login for your membership & Download.
Download this Book