Join us on Facebook!
Stay updated with our latest construction news, tips, and updates.
Like our Facebook Page
@import url(http://fonts.googleapis.com/css?family=Oswald:700);
Pakistan Engineering Council (PEC) Head Quarter, Islamabad is going to organize a one day CPD Course on Construction Management: Software Application PRIMAVERA (One CPD Credit Point) on 29th September, 2014 at CASE, Islamabad.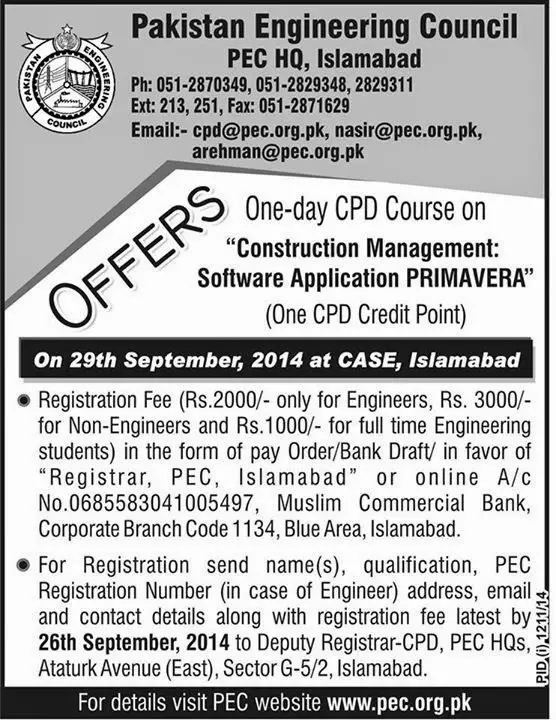 Construction Management Software Application PRIMAVERA
For Registration
Details for Registration and Registration Fee is as under;
Registration Fee (Rs. 2000/- only for Engineers, Rs. 3000/- for Non-Engineers and Rs. 1000/- for full time Engineering Students) in the form of pay Order/Bank Draft/ in favor of "Registrar, PEC, Islamabad" Or online A/C No. 0685583041005497, Muslim Commercial Bank, Corporate Branch Code 1134, Blue Area Islamabad.
\"a one day CPD Course on Construction Management: Software Application PRIMAVERA
\"
For Registration send name(s), qualification, PEC Registration Number (in case of Engineer) address, email and contact details along with Registration fee latest by 26th September, 2014 to Deputy Registrar –CPD, PEC, HQs, Ataturk Avenue (East), Sector G-5/2, Islamabad,
For more details visit PEC website; www.pec.org.pk
Location of the event
function init_map(){var myOptions = {zoom:14,center:new google.maps.LatLng(33.7173643,73.09539829999994),mapTypeId: google.maps.MapTypeId.ROADMAP};map = new google.maps.Map(document.getElementById(\"gmap_canvas\"), myOptions);marker = new google.maps.Marker({map: map,position: new google.maps.LatLng(33.7173643, 73.09539829999994)});infowindow = new google.maps.InfoWindow({content:\"CASE/CARE 19 Ataturk Ave Islamabad\" });google.maps.event.addListener(marker, \"click\", function(){infowindow.open(map,marker);});infowindow.open(map,marker);}google.maps.event.addDomListener(window, \'load\', init_map);