As far as definition of soil is concerned soil may be defined in many ways; but in this book soil is defined as ;
 ,  soil is defined as the uncemented aggregate of mineral grains and decayed organic matter (solid particles) with liquid and gas in the empty spaces between the solid particles
Soil is used as a construction material in various civil engineering projects, and it supports structural foundation as well. Thus civil engineers must study the properties of soil, its origin, grain size distribution, ability to drain water, compressibility, shear strength and load bearing capacity or bearing capacity.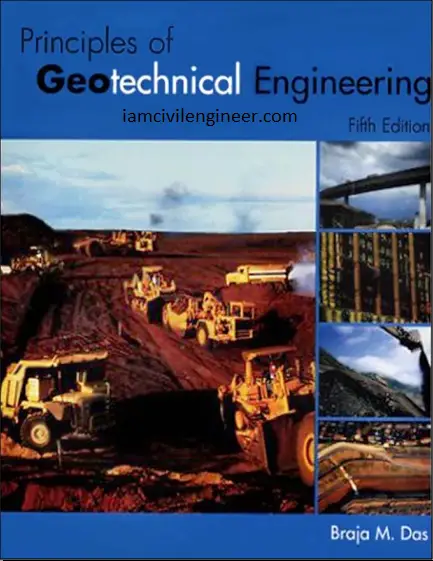 Soil Mechanics of geotechnical engineering can be defined as ;
Branch of science that deals with the study of the physical properties of soil and the behavior of soil masses subjected to various types of forces.
Soils engineering is the application of the principles of soil mechanics to practical problems. Geotechnical engineering is
 the sub-discipline of civil engineering that involves natural materials found close to the surface of the earth. It includes the application of the principles of soil mechanics and rock mechanics to the design of foundations, retaining structures, and earth structures.
  Title of the Book
Principles of Geotechnical Engineering
Edition
5th Edition
Author
Braja M. Das
California State University, Sacramento
Download
To download Free Principles of Geo-technical Engineering by Braja M. Das 5th Edition Click the following button;
Disclaimer:
The Book name and its title and all the things in it are the trademark of respective owner/author, we here on iamcivilengineer doesn't host the book neither uploaded it we are just sharing here the links to download; and are just for sharing it for student and education purpose; if you have any problem about this link or book you can contact us via contact us page or email at [email protected]
Your Feedback
I hope you will like this sharing; stay tuned for the remaining updates about this topic; and don't forget to share it to your friend and buddies on facebook, twitter and gplus.