More homeowners have started realizing the importance of expanding and improving their outdoors, which isn't surprising, especially after lockdown and work-from-home measures during the pandemic. Whether you want to create a functional outdoor space for cooking, relaxation, recreation, or entertaining guests, you should choose the right outdoor features that support your plans. Like most homeowners, you might be torn between constructing a pavilion or a pergola, given their extensive functionalities.
Both the pavilion and pergola are free-standing outdoor structures that add functionality and detail to your backyard while improving home value. Regardless of your preferred structure, working with a professional pergola or pavilion builder and contractor is prudent.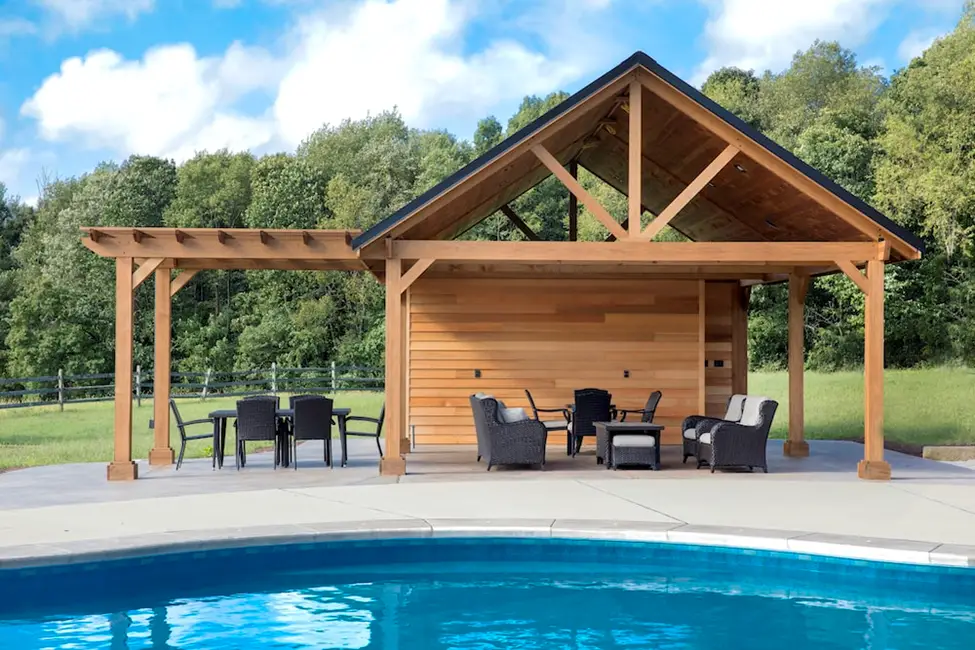 Pavilion vs. Pergola Differences
Most homeowners confuse and use these terms interchangeably, but pavilions and pergolas have specific differences. For starters, pergolas have open roofing with layered beams, while pavilions are roofed. A pavilion is roofed and can be finished with a ceiling with recessed lights. While both are excellent outdoor shades, pavilions protect homeowners from harsh weather. It is simply an outdoor room with no walls.
Choosing between a pavilion and a pergola comes down to personal needs and preferences. Pergolas are appreciated for their charming structural details brought by the exposed beams and open feel. Most homeowners choose pergolas for their aesthetic appeal. They can be built in different styles, ranging from simple to rustic and sophisticated designs. Well-designed pergolas create an excellent focal point in your backyard.
On the other hand, a pavilion adds functionality to your outdoors. It is a sheltered outdoor room free from weather elements that allow homeowners to enjoy their outdoors. They are an excellent relaxing space and add a visual focal point in your backyard. With a roof and no walls, pavilions can be constructed on patios, pool decking, or concrete. They are typically larger than pergolas, and you can install additional features, such as outdoor fireplaces, televisions, and more.
Pavilion and Pergola Construction Costs
Budget is the other guiding factor as to whether you should construct a pavilion or pergola. While outdoor installations and renovations are known to increase property value, you should minimize your expenditure to enjoy a better ROI. Nonetheless, the materials used, size, complexity, and unique features of these structures are the biggest determiners of the project cost.
That said, constructing a pergola costs between $10,000 and $35,000, depending on materials and additional features. Most professional builders don't build pergolas from kits as landscapers. Instead, they opt for custom-made designs that align with your specific needs. Pavilions naturally cost more, probably because of the additional roofing. Homeowners should budget $35,000 and more for a basic pavilion.
The costs of constructing a pavilion can significantly add up if you want to install additional features, such as an outdoor kitchen/fireplace, ceiling lights, infrared heaters, and more. While they are costly, these features help you maximize this outdoor living space.
Endnote
Adding a pavilion or pergola to your outdoor space is certainly very fulfilling. However, after choosing your preferred structure, you should hire the right company to design and build it. Find a professional building company that can bring your original, custom design into reality.