Join us on Facebook!
Stay updated with our latest construction news, tips, and updates.
Like our Facebook Page
The objective of this book is to present and discuss the management of field construction projects. These projects involve a great deal of time and expense; so close management control is required if they are to be completed within the established time and cost constraints. The text also develops and discusses management techniques directed toward the control of cost, time, resources, and project finance during the construction process. Emphasis is placed on practical and applied procedures of proven efficacy. Examples relate to field construction practices.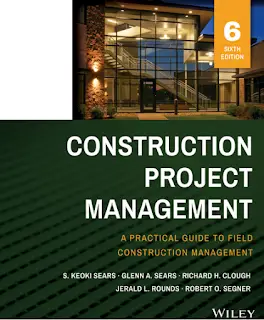 Effective management of a project also requires a considerable background of general knowledge about construction industry. The purpose of this chapter is to familiarize the reader with certain fundamentals of construction practice that will be useful for a complete understanding of the discussions presented in later chapters.
Title of the Book
Construction Project Management
A Practical Guide to Field Construction Management
Sixth Edition
Authors of the Book
S.Keoki Sears
Glenn A. Sears
Richard H. Clough
Jerald L. Rounds
Robert O. Segner, Jr. 
Contents of the Book
Construction Practices
Systematic Project Management
Project Estimating
Project Planning
Project Scheduling Concepts
Production Planning
Managing Time
Resource Management 
Project Scheduling Applications
Project Coordination
Project Cost System
Project Financial management 
Download the Book on Project Management
The Content is for Members Only !!!
This Book is available to download for our free members, you can simply click the button below to signup / login for your free membership and download the book now.
Download this Book For free