Sheet piling is an earth retention and excavation support technique that retains soil, using steel sheet sections with interlocking edges. Sheet piles are installed in sequence to design depth along the planned excavation perimeter or seawall alignment.
The interlocked sheet piles form a wall for permanent or temporary lateral earth support with reduced groundwater inflow. Anchors can be included to provide additional lateral support if required.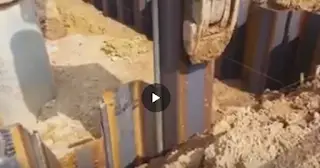 In this video the installation method with auger is shown very clearly.
[youtube https://www.youtube.com/watch?v=0pnymX7lo04]
This video is showing how sheet piling methods works and how anyone can learn about sheet piling installation and what are the various things you should know about sheet piling method statement and how anyone can do the sheet piling design and what are various sheet piling handbook availble in the market and what is sheet piling process and if any online material is there related to sheet piling pdf and what is the term of oriental sheet piling.