Join us on Facebook!
Stay updated with our latest construction news, tips, and updates.
Like our Facebook Page
KOCHI: Cochin International Airport is the first airport in the world which runs completely on solar power. Since August, the airport has used 46,000 solar panels laid across 45 acres to power all its electricity needs, and sell excess power to the government-run grid.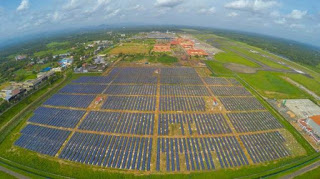 At night, when the sun doesn't shine, it pulls some of that power back from the grid, making the airport effectively "carbon neutral." The solar plant will help CIAL to reduce carbon emissions equal to 1.75 lakh MT for the next 25 years. This is equal to planting 30 lakh trees.
 As per BBC report the airport started with a small pilot project by installing a solar energy plant with 400 panels on its rooftop in 2013. When that experiment succeeded, it decided to go all the way. In
August this year, the airport became totally self sufficient in meeting its energy needs after it installed a 12 megawatt solar plant close to the cargo terminal.
 The installation of the solar plant cost nearly $9.5m (£6.27m) and took around six months to complete. The company is hopeful of recouping the costs in less than six years.
The airport will double its capacity from present 13.1 MW as power usage will be doubled as new international terminal will be functional this January. Also Read: Baripatha: First Village In Odisha To Be Powered Entirely By Solar Energy