The Kelpies are a mythical set of horses that were said to be born from the sea. This was the initial inspiration behind this imposing and magnificent structure. The key here is the thought behind it. When engineers are tasked with a job, they must take into consideration the environment, culture, history of the area etc. and there are not many finer exhibitions of this than \'The Kelpies\' which have been engineered into the very fabric of Falkirk.
The mythological associations behind the original brief have been absorbed by other sources of inspiration in the creative processes. The Kelpies are modeled on heavy horses and it is this theme of working horses which drove the project. They are the embodiment of the industrial history of Scotland and the Falkirk / Grange mouth area. Heavy horses would once have been the powerhouse of the area, working in the foundries, the fields, and farms and of course the canal itself, pulling boats along the Forth & Clyde from coast to coast. Falkirk was also home to reputedly the world's biggest horse in the 1930′s named Carnera.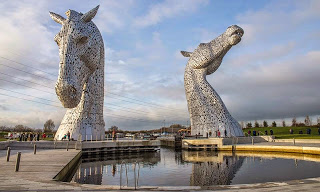 The materials of the sculptures are deliberately those of Scotland's former industrial heartland. The towering horse heads have an industrial aesthetic with structural columns and beams visible through the riveted laser cut steel plates of the skin, the manes rendered as geometric overlapping slabs of steel. The entire structures are illuminated inside and out to create a stunning spectacle in hours of darkness. They elevate Falkirk and Grange mouth to national and international prominence and bring with them a sense of pride and ownership, having achieved global media coverage. They stand as a testament to the achievements of the past, a paean to artisanship and engineering.