Join us on Facebook!
Stay updated with our latest construction news, tips, and updates.
Like our Facebook Page
A Renowned Multinational construction company are looking for experienced individuals to fill the following vacant positions;
Job Titles;
Contract Manager – Chartered Accountant
Planning Engineer
Quantity surveyor
Documents Controller
Rotary Drill Machine Operator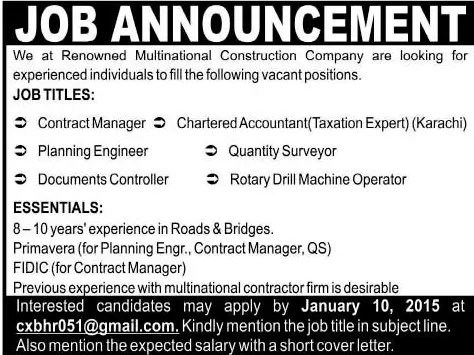 8-10 years experience in Roads and Bridges
Primavera (for planning engr. Contract manager, qs)
FIDIC (for contract Manager)
Previous experience with multinational contractor firm is desirable
Interested candidates may apply by January 10, 2015 at
[email protected]
, kindly mention the job title in subject line. Also mention the expected salary with a short cover letter.