Join us on Facebook!
Stay updated with our latest construction news, tips, and updates.
Like our Facebook Page
To study about materials is very essential for civil engineers. Civil Engineers deal with variety of materials like concrete, cement, aggregates, soil, bricks and various others that are used to construct or to support some structural load.
The ultimate destination of load for any structure is soil. Soil absorbs as well as dissipates the load by stress phenomenon. As stress is defined as force by area, greater the area lower the stress as soil comprises of endless surface area this not only reduces the load but actually it distributes it to an infinite area that helps the structure to stand without any notable settling or destruction.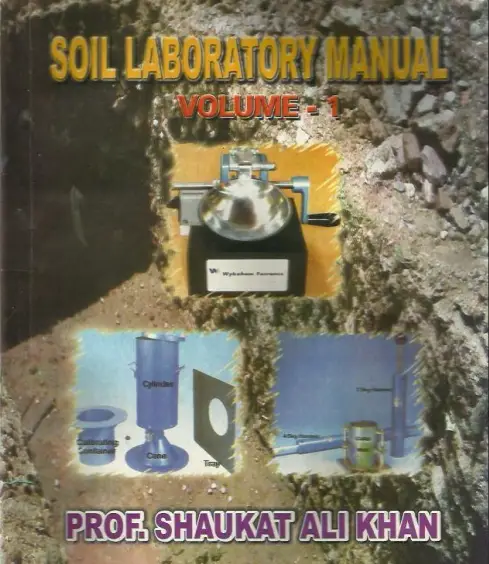 Download Soil Mechanics Laboratory Manual
After the preliminary survey, in any project, there comes bundles of experiments that are to be performed to test the soil or geo-technical performance.
Foundation or footing, the part of the structure that comes in direct contact for delivering the load directly to the soil, dictates the failure or success of the project. Any negligence in design of foundation will be devastating for the structure which is not only dangerous for occupants but also for the neighbors.
Before the design of foundation, geotech engineer has to test the bearing capacity, shear capacity, permeability, frost susceptibility etc. All these tests have to be performed according to some standards mostly AASHTO and ASTM.
About Lab Manual
Soil Mechanics or Geotechnical Engineering lab manual shared in this post will complete your need to test the soil for all sorts of parameters needed in a project. The lab manual has step by step guide along with pictures for easy understanding and it also includes step by step guide to draw graphs by using a personal computer excel sheets.
Download Soil Mechanics Lab Manual
or
( function() { if (window.CHITIKA === undefined) { window.CHITIKA = { \'units\' : [] }; }; var unit = {\"calltype\":\"async[2]\",\"publisher\":\"smsbazaar\",\"width\":550,\"height\":250,\"sid\":\"Chitika Default\"}; var placement_id = window.CHITIKA.units.length; window.CHITIKA.units.push(unit); document.write(\'
\'); }());