Video training and tutorials have been the easiest and simplest ways now a days to learn softwares and applications. Etabs and Safe both are structural engineering softwares that are used to design and analyze the compete concrete frame structures as well as steel structures. Design of columns, slabs, beams, foundations, shear walls, ramp all are done with the help of etabs and safe.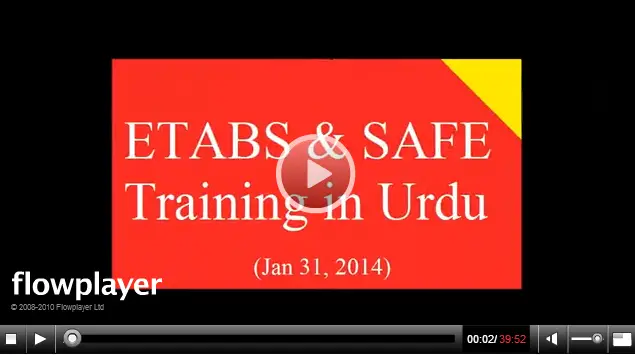 Complete Video Training Tutorial in Urdu / Hindi by Engr. Ali Shan
In this complete video tutorial training of ETABS and Safe, both the softwares are used in combination for the design of a building. Preliminary design steps are also been explained which are used just to initialize the design.
This complete video training is developed by an intelligent passionate civil engineer from University of Engineering and Technology, Lahore Pakistan, Engr. Ali Shan.
The complete video training tutorial is in Urdu or Hindi and also includes some English stuff as well.
To download ETABS
Go here >>> Download ETABS for free full cracked
To Download Safe
GO here >>> Download SAFE complete cracked free full
If you have trouble installing ETABS
go here >>> Patch problem solved in ETABS installation
Etabs and Safe Complete Video Tutorial and Training Part 1
Etabs and Safe Complete Video Tutorial and Training Part 2
( function() { if (window.CHITIKA === undefined) { window.CHITIKA = { \'units\' : [] }; }; var unit = {\"calltype\":\"async[2]\",\"publisher\":\"smsbazaar\",\"width\":300,\"height\":250,\"sid\":\"Chitika Default\",\"color_button\":\"f50c0c\",\"color_button_text\":\"ffffff\"}; var placement_id = window.CHITIKA.units.length; window.CHITIKA.units.push(unit); document.write(\'
\'); }());
Etabs and Safe Complete Video Tutorial and Training Part 3
Etabs and Safe Complete Video Tutorial and Training Part 4
Etabs and Safe Complete Video Tutorial and Training Part 5
Keywords
Civil Engineering Tutorials, Civil Engineeirng Video Tutorials, Video Engineering Video Training, ETABS video Training, SAFE Video Training, ETABS & SAFE video Training tutorials, Complete video learning in urdu / hindi