Join us on Facebook!
Stay updated with our latest construction news, tips, and updates.
Like our Facebook Page
CSI SAFE stands for Slab Analysis by Finite Element Method. CSI SAFE satisfies all the structural requirements of a structural engineer from framing layout to detail drawing procedure. CSI SAFE provide all the engineering design process aspects in one place to the structural engineer.
What is CSI SAFE?
SAFE is a sophisticated, yet easy to use, special purpose analysis, design, and detailing program developed specifically for concrete slab and basement systems.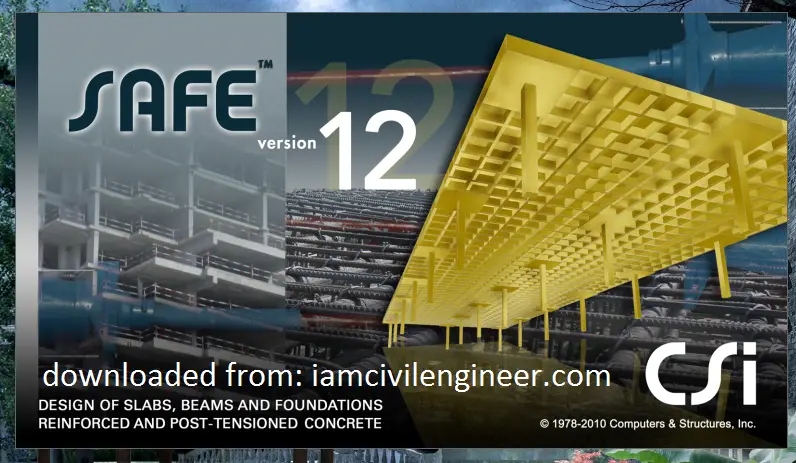 Download CSI SAFE – Version 16
 CSI SAFE couples powerful object-based modeling tools with an sensitive graphical interface, allowing the quick and efficient modeling of slabs of regular or arbitrary geometry with openings, drop panels, post-tensioning, ribs, edge beams, and supported by columns, walls, or soil.
Design is flawlessly integrated with the modeling and analysis, and provides comprehensive reporting of the required reinforcement calculated based on a chosen design code.
Detailed drawings may be produced smoothly for slabs and beams designed using CSI SAFE. CSI SAFE may be used as a stand-alone application, or may be used in conjunction with ETABS to complete analysis, design, and detailing of concrete floor plates created in ETABS.
What is New in CSI SAFE v12?
This new version of CSI SAFE 12 has ultimate integrated tools for designing reinforced and post-tensioned concrete floor and foundation systems. This new version has 3D object-based modeling tools and SAPFIRE has also been introduced.
•    CSI SAFE Version 12 supports multi-segmented general design strips allowing strips to be arranged in an arbitrary manner.
•    Full 3D analytical model.
•    Unique project explorer that gives users quick access to any aspect of the CSI SAFE model.
•    New Right Click menu will allow you to make edits to any object in the model.
•    AUTOCAD drawing can be imported that can be used as a reference while building a CSI SAFE model.
•    Supports multiple coordinate systems.
About the Package
This package of the CSI SAFE includes the main program files along with that there are tutorials and help manual as well including Release Information, Manuals, Design, Tutorials and Verification manuals. 
This version also include a cracked .dll file which is simply to be copied to the installed directory.
Disclaimer
The software name and its logo is the trademark of respective owner, we
here on
iamcivilengineer doesn't host the software we are just sharing here
the links
to download; and are just for sharing it for student and education purpose; if you have any problem about this link or software you can contact us via contact us page or email at
[email protected]
Your Feedback
I hope you will like this sharing; stay tuned for the remaining updates about this topic; and don't forget to share it to your friend and buddies on facebook, twitter and gplus.