Join us on Facebook!
Stay updated with our latest construction news, tips, and updates.
Like our Facebook Page
As we all know that civil engineering can't be isolated from other engineering fields. For the betterment of human life civil engineering require electrical engineering, architectural engineering. Hence all important aspects of civil engineering are taught as elements of civil engineering in all over the world.
This particular book with title "Basic Civil Engineering" covers all the basic definitions, terminologies and everything related to civil engineering. The book is written in very simple English and is very handy for students to learn civil engineering.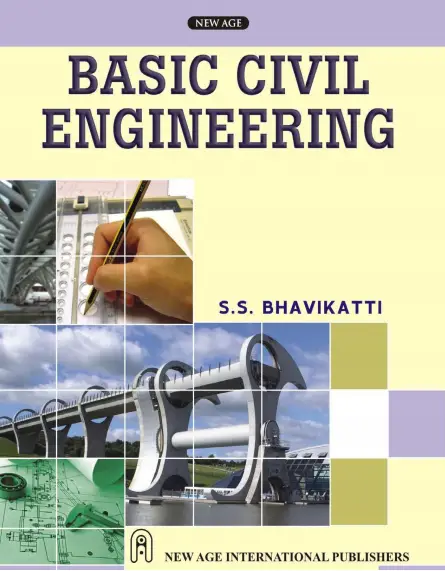 Download Basic Civil Engineering by S.S. Bhavikatti
Title of the Book
Basic Civil Engineering
Author
S.S. Bhavikatti
Contents
UNIT – I: CIVIL ENGINEERING MATERIALS 1–70
1 TRADITIONAL MATERIALS 3–32
2 MORTARS 33–38
3 CONCRETE 39–54
4 METALS AS BUILDING MATERIALS 55–58
5 MISCELLANEOUS BUILDING MATERIALS 59–69
UNIT – II: BUILDING CONSTRUCTION 71–136
6 BUILDING PLANNING 73–81
7 FOUNDATIONS 82–91
8 SUPER STRUCTURES 92–127
9 DAMPNESS AND ITS PREVENTION 128–132
10 COST EFFECTIVE CONSTRUCTION TECHNIQUES 133–135
UNIT – III: SURVEYING 137–236
11 INTRODUCTION TO SURVEYING 139–148
12 LINEAR MEASUREMENTS AND CHAIN SURVEYING 149–175
13 COMPASS SURVEYING 176–194
14 PLANE TABLE SURVEYING 195–208
15 LEVEL AND LEVELLING 209–225
16 MODERN TOOLS OF SURVEYING 226–236
UNIT – IV: MAPPING AND SENSING 237–268
17 MAPPING AND CONTOURING 239–246
18 Drawing Contours   246
19 REMOTE SENSING AND ITS APPLICATIONS 266–268
UNIT – V: DISASTER RESISTANT BUILDING 269–287
20 DISASTER RESISTANT BUILDINGS 271–281
21 DISASTER MANAGEMENT AND PLANNING 282–285
22 INDIAN STANDARD CODES 286–287
Download Basic Civil Engineering by S.S. Bhavikatti 
The Content is for Members Only !!!
This Book is available to download for our free members, you can simply click the button below to signup / login for your free membership and download the book now.
Download this Book For free
Disclaimer:
The Book name and its title and all the things in it are the trademark of respective owner/author, we here on iamcivilengineer doesn't host the book neither uploaded it we are just sharing here the links to download; and are just for sharing it for student and education purpose; if you have any problem about this link or Software you can contact us via contact us page or email at
[email protected]
Your Feedback
I hope you will like this sharing; stay tuned for the remaining updates about this topic; and don't forget to share it to your friend and buddies on facebook, twitter and gplus. –