Join us on Facebook!
Stay updated with our latest construction news, tips, and updates.
Like our Facebook Page
Foundation Engineering is a very interesting and use full subject in terms of applicability and scope in civil engineering. Importance of Foundation engineers can be understood easily by considering the importance of foundation in a structure. This post is about the introduction of foundation engineering, course contents, assignments and books which are mostly referred in foundation engineering.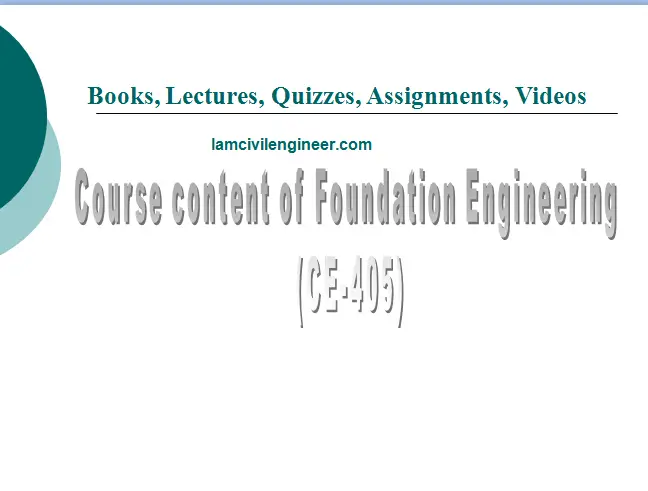 Foundation Engineering
Foundation engineering is a field of civil engineering related to the analysis and design of shallow and deep foundation, along with testing of the soil and its geo-technical foundation, creating a soil profile, selecting a suitable barrow pit if needed, enhancing the bearing capacity of soil by various methods, stabilizing the soil if needed, avoiding the land-slides and other ground failures.
After studying foundation engineering you would be able to analyze the load carrying capacity of a foundation, design of shallow foundation which means selecting the suitable depth and dimensions of the footing by considering the geo-tech properties of the soil, design of pile foundation, selecting the depth and calculating the spacing within a group of piles, determining the efficiency of group of pile foundation.
You will know how to evaluate the pile load test data, draw graphs of it, how to conduct the Standard Penetration Test and understanding the test results, understanding the Cone Penetration test and how to use its properties in developing the foundation of a structure, similarly how to conduct vane shear test and using its properties find out the cohesion of the soil and using this test result design the foundation for that soil.
Course Contents
Review of Soil Mechanics and Geo-technical Engineering
Factors to be considered in foundation design
Geo-technical Design of Shallow foundation
Introduction and design of deep foundation
Assignment
Report on any mega structure by considering the geo-tech investigation and consideration in that project
Design 1; Design of Shallow foundation based on Standard Penetration Test (SPT)
Design 2: Design of Shallow Foundation based on results of Cone Penetration Test (CPT)
Design 3: Design of Shallow Foundation based on results of Field Vane Shear Test
Design 4: Design of Deep foundation and pile foundation and testing by pile load test
Collection of Graphs from various topics of soil mechanics
MCQs from various topics of shallow foundation and deep foundation
Lab Portion:
General Soil Properties Problems
Bearing Capacity of shallow foundation problems
Field Vane Shear Test
Books Referred
1    Soil Mechanics & Foundation Engineering    (4th Edition) Prof. V.N.S Murthy
2    Foundation Analysis and Design    (5th Edition)  by Joseph E. Bowles
3    Principles of Foundation Engineering    (6th Edition)    Braja M. Das
4    Fundamentals of Soil Mechanics        Siddique Quereshi                  & Aziz Akbar
5    Foundation Design and Construction    (5th Edition)  M.J.Tomlinson
6    Soil and Foundation    (4th Edition) Chery, Liu and Jack B. Evett
7    Soil Mechanics & Foundation Engineering B.K Ramiah, L.S. Chickanagappa
Quizzes
Quiz # 1; from a video lecture about soil investigation
Quiz # 2: From SPT, CPT, VST
Download the package:
This package has been designed to ensure that maximum of the above course will be provided; including books, notes, class notes, lectures, assignment solution and everything.
To download Click the Button below;