Join us on Facebook!
Stay updated with our latest construction news, tips, and updates.
Like our Facebook Page
Strength Laboratory deals with the strength testing of structural materials. While designing any structure, one of the most important concerns of design engineer is to determine the strength of any material that has to be used in the construction of relevant structure. The material should be strong enough to carry load for which the subject structure is to be designed without undergoing undue deformations. The structural design should be such as the stresses within any member do not exceed strength of material used. In any case if internal stresses exceed strength of material used, failure occurs. Structural failure may include additional complexity like stresses in different directions, components or material carrying cracks, creep or fatigue.
In Strength Laboratory, students will have the opportunity to verify various properties of structural materials under different loading scenarios. There are many test equipments and skilled staff to operate those equipments.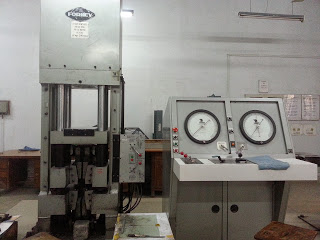 Strength of Material Lab Manual
1. Introduction to laboratory
2. Report Format
3. Strength of Materials-1
3.1 List of Experiments
3.2 Experiment No.1
3.3 Experiment No.2
3.4 Experiment No.3
3.5 Experiment No.4
3.6 Experiment No.5
4. Strength of Materials
4.1 List of Experiments
4.2 Experiment No.1
4.3 Experiment No.2
4.4 Experiment No.3
4.5 Experiment No.4
4.6 Experiment No.5
Download Link:
Disclaimer:
The Lab Manual name and its contents are reserved under copy right law we here on iamcivilengineer doesn't host the book neither uploaded it we are just sharing here the links to download; and are just for sharing it for student and education purpose; if you have any problem about this link or lab manual you can contact us via contact us page or email at
[email protected]
Your Feedback
I hope you will like this sharing; stay tuned for the remaining updates about this topic; and don't forget to share it to your friend and buddies on facebook, twitter and gplus.
Thanks
Keywords for this Lab Manual
strength of materials lab manual for civil engineering
strength of materials lab manual anna university
me2256 strength of materials lab manual
strength of materials lab manual with model calculations
mechanics of materials lab manual
strength materials lab equipment
material science lab manual
lab manual doc