Site Engineers Play an important role for the success or failure of any project; they are the front force of any construction or consultant company, they have to face harsh weathers, large amount of man power; and they comes in direct execution of any project; to know more about site engineers, what are its responsibilities; what are the skills required; move to this post;
Following are few general points to remember for civil site engineers to make the construction work easier while maintaining the quality of construction.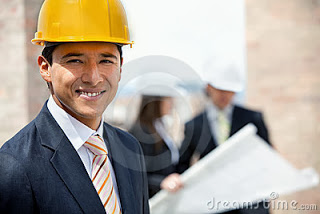 Site Engineer Important Points to remember: Dreamstime.com
Lapping is not allowed for the bars having diameters more than 36 mm.
Chair Spacing Maximum spacing is 1.00 m (or) 1 No per 1m2
For Dowels rod minimum of 12 mm diameter should be used.
Chairs minimum of 12 mm diameter bars to be used.
Longitudinal reinforcement not less than 0.8% and more than 6% of gross C/S.
Minimum bars of square column is 4 No's and 6 No's for circular column.
Main bars in the slabs shall not be less than 8 mm (HYSD) or 10 mm (Plain Bars) and the distributors not less than 8 mm and not more than 1/8 of slab thickness.
Minimum thickness of slab is 125 mm.
Dimension tolerance for cubes + 2 mm.
Free fall of concrete is allowed maximum to 1.50 m.
Lap slice not to be used for bar larger than 36 mm.
Water absorption of bricks should not be more than 15 %.
PH value of water should not be less than 6.
Compressive strength of Bricks is 3.5 N/mm2
In steel reinforcement binding wire required is 8 kg per MT.
In soil filling as per IS code, 3 samples should be taken for core cutting test for every  100 m2.