Stamped concrete patterns are a popular finishes for pool decks, sidewalks, patios, and driveways. It's also getting popular for interior applications and for floor finishes.
The most popular stamped concrete patterns are the ones that resemble natural stone patterns like of slate, flagstone, and fieldstone. Others include brick, cobblestone, and wood patterns.
The term "Stamped Concrete" came in to existence is used for decorative concrete that has been textured, imprinted, patterned or embossed with specialized modern techniques so that it may resemble the pattern of wood, flagstone, brick, tile, slate or different patterns.
If you're a newbie to stamped concrete patterns and are clueless about how to do that; this read is worth it. I've tried to cover all the aspects giving you the instructions/recommendations and preferred methods. It will definitely give you confidence to move forward and do the DIY project the way it should.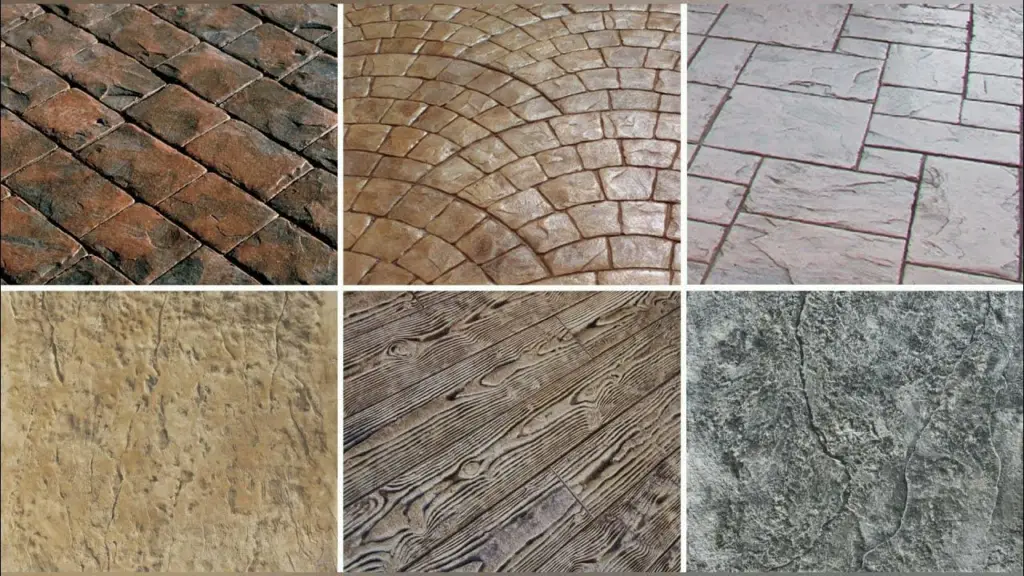 Popular stamped concrete patterns for driveways
For concrete driveways the 8 most popular stamped concrete patterns include flagstone, ashlar, running bond brick, herringbone brick, regular cobblestone, and fieldstone. Some less common patterns include Eurofan or English fan cobblestone.
The type of pattern you choose for driveways must compliment the décor and style of your house and must blend well with the existing landscape.
I've always loved the driveways stamped with a border around as it helps the pattern to standout. The two patterns that I always have recommended for my followers is Ashlar slate and cobblestone.
Ashlar slate stamped concrete pattern – It is best pattern for driveways that offers stone texture and high-end finish. It looks good on most of the landscapes and standout with most of the house décor.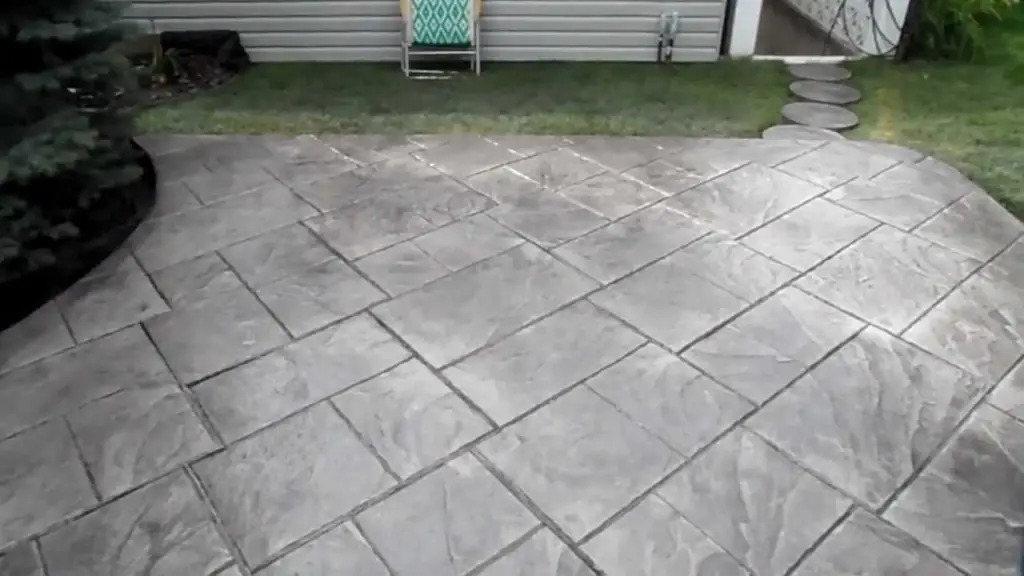 Cobblestone – its grey color and charcoal appearance make it the best contemporary style pattern that looks best on most driveways.
I've also written another introductory article about stamped concrete for newbies; make sure your read it here: What is stamped concrete.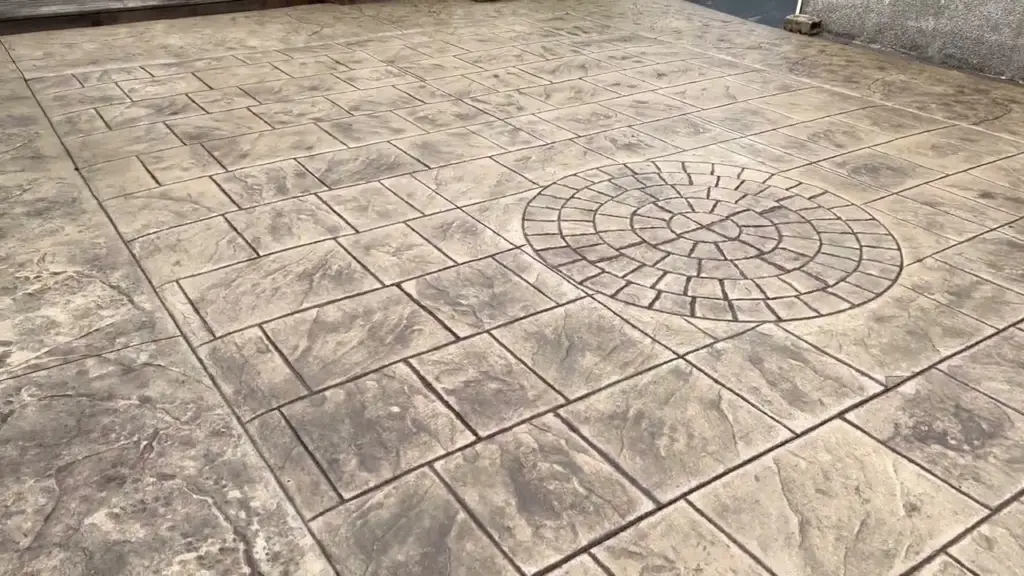 Popular stamped concrete patterns for patios
When it comes to patios, the choices for stamped concrete patterns are endless. Unlike driveways, people prefer to keep patio patterns simple and sleek. The most popular patterns here are wood plank stamped concrete that mimic the look of natural wood. You can now even achieve more realistic appearance with dark release like walnut or charcoal.
I've always preferred to have 16 inch barnboard pattern that not just look realistic but is also easy to achieve with less effort.
Other popular pattern for patios is different type of Ashlar slate. You can choose to have large Ashlar Slate with or without border. The stone texture can be of Herringbone brick with simple border or brick border. Cobblestone with random Ashlar Old Granite is also popular.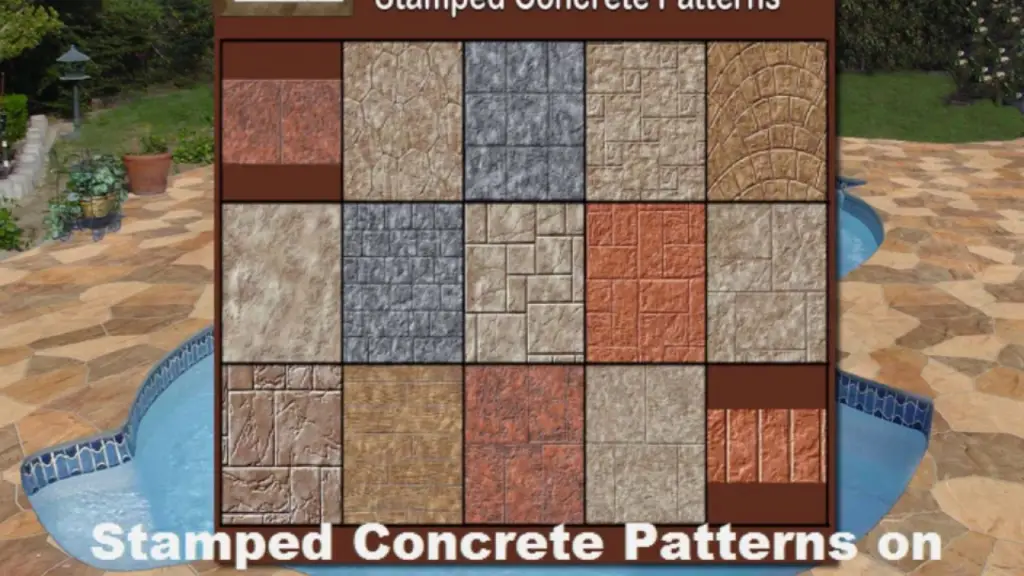 What Are the Factors that are important in the Selection of Stamped Color Concrete?
In order to give the space a unique and aesthetically look, the available option available today is Stamped Color Concrete. There are numerous pattern and color schemes that can be used in any combination in stamped concrete. The factors that you must consider before applying the stamped concrete is preference, the nature of building and environment, weather , vehicular traffic and cost.
Stamped concrete pattern colors
The option to choose a light or dark color is available for stamped concrete. The different colors gives stamped concrete a realistic and charming look, however, the chosen color may be;
Release color,
Integral color,
White on white color
Shake on color
Surface applied color
Release Color
The release color is used to enhance the base color and help prevent stamp mats from sticking to concrete. It is the final color that is applied to surface of concrete. In order to give more appealing result a darker shade is used that accolades the base color.
Integral Color
This color is used in combination with other colors that penetrates the entire slab and generates a permanent color in concrete that will not fade away over time. The incorporation of coloring pigments at the batch plant or on job site infiltrates the concrete and gives the concrete a long term color. Although the availability of options for integral colors are limited, mostly limited to pastels and earth tones. In order to enhance color and provide the distinction, this method is used in combination with the different surface applied coloring treatments techniques. The advantage of this color is that it is mix so thoroughly that it is harder to differentiate the color from concrete. When mixing concrete, this color is added and is the most common way to color concrete.
White on White Color
White concrete is formed as a result of chemical reaction between White OPC and water. The white color is due to the addition of titanium dioxide. White color is good reflector of sun rays; resultantly it is quite comfortable to walk on white concrete even in the summer season. It is mainly used in decks of pool and has a discrete aesthetic look and cooling effect
Shake on Color
It is one of the most popular colored stamped concrete methods because it employs the use of dry shake hardeners. It is the opposite of integral color pigments because these colors are imparted by hand onto the freshly placed concrete surface and only color the top layer, as opposed to coloring the entire concrete matrix. .This color is more intense than integral color because it is concentrated at the surface.  The density and strength of concrete surface hardeners are derived from its color and create a rich surface paste that is designed to create a sharper texture.
Surface Applied Colors
Decorative concrete contractors typically use an integrated or dry color shake with a surface applied colorant when stamping designs or patterns onto the concrete. The layers of color in the stamped concrete give it such a realistic look, just like natural stone. The following are some options: water-based acrylic stains, tinted solid release agents, tinted liquid release agents, concrete dyes and acid-based chemical stains.
What are the factors keeping in mind for choosing a Stamped Concrete Color?
The compatibility of different color schemes for use in stamped concrete is one of the main factors to consider when using stamped concrete colors in a home or in mega structures. Stamped concrete is not only aesthetically pleasing but also cost effective. There are varieties of colors that are available ranging from light to dark, brown to gray. A dark color combination is preferred. When using tan stamp concrete, a dark or brown release color is recommended. If the integral color is gray or brown, the release color should be dark or black gray to contrast with the gray or brown. In case of pavements specifically outdoors, generally subtle earth tone shades are preferred. Some of the most common choices are:
Gray stamped concrete :It is used as dark as charcoal and it can replicate light stones
Brown stamped concrete: The range of this color is from deep walnut to light tans
Red stamped concrete :It includes terra cotta or mahogany
For subtle differences in tone or a faded effect, one or more accent colors of hardener can be used, or acid stains or colored bleaching agents can be used.
Light Colors
Light colors options available in stamped concrete are as follows:
Sandstone hue,
Silver-gray,
Antique white,
Pecos sand,
Sun gray
Beige,
Buff,
Light gray,
Gold sandstone,
Camel
Dark Colors
Choosing a dark color for both base and release requires expertise as both dark shades can dominate each other if not chosen carefully. Different coloring options are as follows:
Scofield's integral Terra Cotta color
Brickform's darker Terra Cotta color hardener
Brickform's Pecos sand color hardener,
Chromix Spring Beige.
Commonly used colors in stamped concrete design  
The most commonly used stamped colors concrete design is as follows:
Wood
Camel 
Gray
Buff
Brown
Terra Cotta
Red