WAPDA is currently looking for competent, dedicated, dynamic and self-motivated personnel for the following positionson contract basis extendable on account of satisfactory performance.
Junior Engineering (CIVIL) in department of GM (C&M) Water
Pay Scale: BPS (17) 
No. of Post: 62 
Qualification : B.Sc. (Civil Engineering) or equivalent from HEC recognized university 
Note: The discipline will be considered as per registration with PEC
Age limit (years): 33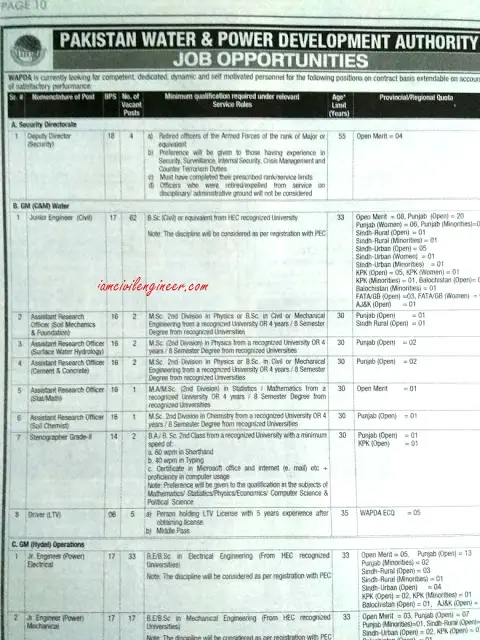 62+ Job vacancies in WAPDA from all Pakistan Provinces March, 2018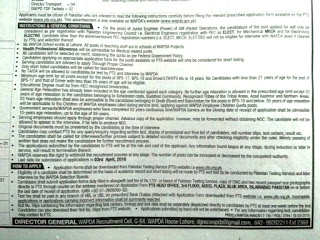 How to apply for this Job?
Applicants can fill in the prescribed from Pakistan testing service website (http://pts.org.pk) .
Candidates shall submit application forms duly filled in along with test fee of Rs. 170/- in favor of Pakistan testing service, copy of CNIC and two recent passport size photographs directly to PTS through courier on the address mentioned on Application form on or before 3rd April, 2018.
We are here sharing you all the job openings and vacancies for civil engineering graduates in WAPDA.
This Civil Engineering Jobs in  WAPDA, Water & Power Development Authority is best opportunity for Fresh BSc Civil Engineer. All Civil Engineering jobs in Punjab, KPK, Sindh, AJK, FATA,  is collected from different Newspapers on every Sunday and shared for our viewers so that that can apply for the job and get the employment in WAPDA C&M Water  as Junior Civil Engineer. These Jobs are for the Building Engineering So you must have experience in Building and Highways 
We have prepared a group on Facebook where you can get the alerts about Jobs in WAPDA If you know any job opportunity in Government Sector both permanent Jobs and Jobs on contract basis you can contact us, you can inform us about the job.
If you are a fresh or experienced civil engineer living in Pakistan and seeking Civil Engineering Job in Water & Power Sector than don't post or share your CV here as we are not a part of the department and we are just sharing it so that you can get the opportunity to apply for this job.