The position or the layout of the center line of the highway on the ground is called the alignment. The horizontal alignment includes the straight path, the horizontal deviations and curves.
 Changes in gradient and vertical curves are covered under vertical alignment of roads.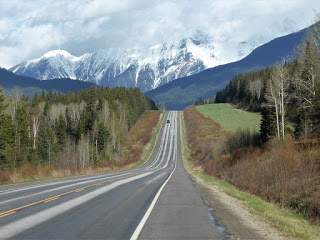 Highway Leading through mountains towards National Park Canada
A new road should be aligned very carefully as improper alignment would result in one or more of the following disadvantages :-
Increase in construction cost
Increase in maintenance cost
Increase in vehicle operation cost
Increase in accident rate
Once the road is aligned and constructed, it is not easy to change the alignment due to increase in cost of adjoining land and construction of costly structures by the road side. Hence the importance of careful considerations while finalizing the alignment of a new road need not be over emphasized.
Stability 
While aligning hill roads, special care should be taken to align the road along the side of the hill which is stable. A common problem in hill roads is that of land slides. The cutting and filling of earth to construct roads on hill-side causes steepening of existing slopes and effect its stability.
Drainage
Numerous hill side drains should be provided for adequate drainage facility across the road. But the cross drainage structure being costly, attempts should be made to align the road in such a away where the number of cross-drainage structures are minimum.
Geometric standards of hill roads
Different sets of geometric standards are followed in hill roads with reference to gradient, curves and speed and they consequently influence the sight distance, radius of curve and other related features. The route should enable the ruling gradient to be attained in most of the length, minimizing steep gradients, hair pin bands and needless rise and fall.
Resisting length
The resisting length of a road may be calculated from the total work to be done to move the loads along the route taking the horizontal length, the actual difference in levels between the two stations and the sum of ineffective rise and fall in excess of floating gradient. In brief, the resisting length of the alignment should be kept as low as possible. Thus the ineffective rise and executive fall should be kept minimum.