Join us on Facebook!
Stay updated with our latest construction news, tips, and updates.
Like our Facebook Page
The Urban Unit Expression of Interest (Hiring of Individual Consultant)
Professional required as Individual Consultants for Rural Water Supply Projects for Project Management Consultancy on Intermittent Basis to be based in Lahore with Possible travel to various locations in Punjab.
Additional Team Leader (upto Rs. 1 Million) Duration 7 Month
Experience & Qualification – Civil / Environmental Engineer with minimum 10 years of experience drinking water sector including experience in Project Management.
Hydro Geologist / Water Resource Expert (upto Rs. 700,000/-) Duration 6 Months. 
Experience & Qualification – MSc. Or Ph.D in Water Resource / Hydrology or related field with Minimum 20 years of related experience of analysis of water quality data, ERS data and assessment of ground water potential for drinking water purposes in Pakistan.
Design Engineer (upto Rs. 700,000/-) Duration 10 Months
Experience & Qualification Civil Engineer with minimum of 7 years of design & planning experience in drinking water sectors.
Note:
i. Name of Position Applied For must be mentioned clearly on envelope
ii. Incomplete applications will not be entertained.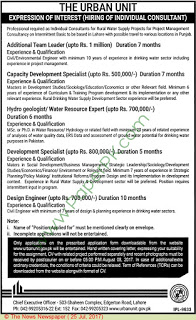 Hiring of Individual Consultant HydroGeologist, Water Resource Expert, Design Engineer in Urban Unit Pakistan July, 2017
Only applications on the prescribed application form downloadable from the website www.urbanunit.gov.pk will be entertained. Hand Written covering letter, expressing your suitability for the assignment, CV with related project performed separately and recent photographs must be received by post/courier on or before 05:00 P.M August 08,2017. In Case of additional / extra ordinary credentials, the conditions of criteria could be relaxed. Terms of References (TORs) can be downloaded from the website along with format of C.V.
Chief Executive Officer – 503-Shaheen Complex, Edgerton Road, Lahore.
Ph: 042-99205316-22 Ext. 152 – Fax: 042-99205323 – www.urbanunit.gov.pk