Join us on Facebook!
Stay updated with our latest construction news, tips, and updates.
Like our Facebook Page
Ali Brothers a reputable construction company is looking for ambitious and proactive individuals for the following positions in Head Office and various regional sites across Pakistan.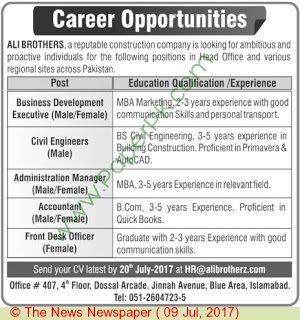 1.       Civil Engineers (Male)
BS Civil Engineering, 3-5 years experience in building Construction. Proficient in Primavera & AutoCAD.
Office#407, 4th Floor, Dossal Arcade, Jinnah Avenue, blue Area, Islamabad, 
This Civil Engineering Jobs in Ali Brothers Pvt Limited., Islamabad, Pakistan is best opportunity for experienced Civil Engineers. All Civil Engineering jobs in Ali Brothers Pvt Limited, Pakistan  is collected from different Newspapers on every Sunday and shared for our viewers so that that can apply for the job and get the employment in Ali Brothers Pvt Limited, Pakistan  as Civil Engineer. These Jobs are for the Primavera, Project management, So you must have experience in Oil Depot including Structural Framing, Concrete Works. 
We have prepared a group on Facebook where you can get the alerts about Jobs in Elite Engineering Pvt Limited. If you know any job opportunity in Private Sector both permanent Jobs and Jobs on contract basis you can contact us, you can inform us about the job.
If you are a fresh or experienced civil engineer living in Pakistan and seeking Civil Engineering Job in Building Sector than don't post or share your CV here as we are not a part of the department and we are just sharing it so that you can get the opportunity to apply for this job.