Join us on Facebook!
Stay updated with our latest construction news, tips, and updates.
Like our Facebook Page
Applications from AJK State subject holders and domicile of all districts of AJ&K and refugees settled in Pakistan as well as 1989 regugees are invited for following contract / adhoc appointments on basis of merit in the Planning & development department.
P&DD Schemes : Establishment of Rate Analysis Section in P&DD " Strengthening of Monitoring and Evaluation system in p&DD"
1.
Name of Post: Research Officer (Technical) (Rate Analysis in P&DD)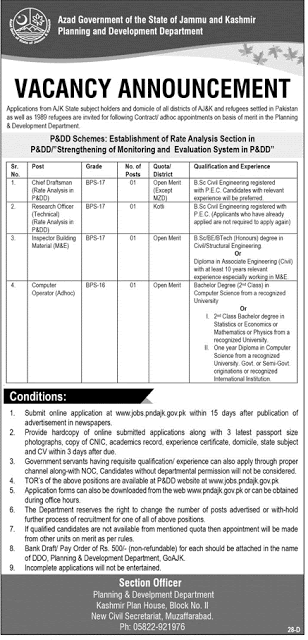 Click to Enlarge
2. Grade / Pay : BPS-17
3. No. of Posts : 01
4. District / Quota : Kotli, AJK, Pakistan
5. Qualification & Experience : B.Sc. Civil Engineering Registered with PEC (applicants who have already applied are not required to apply again)
1.
Name of Position: Inspector Building Material (M&E) 

2. Grade : BS-17
3. No. of Posts : 01
4. Quota / District : Open Merit
5. Qualification & Experience : B.Sc. / BE / B.Tech Hons degree in Civil / Structural Engineering
6. Or
7. Diploma in Associate Engineering (civil) with atleast 10 years relevant experience especially working in M&E
How to apply?
Submit online application at www.jobs.pndajk.gov.pk within 15 days after publication of advertisement in newspapers.
Provide hardcopy of online submitted applications along with 3 latest passport size photographs, copy of cnic, academics record, experience certificate, domicile, state subject and CV within 3 days after due.
Bank draft / Pay order of Rs. 500/- (non-refundable) for each should be attached in the name of DDO, Planning & Development Department, GoAJK.
Section Officer 
Planning & Development Department
Kashmir Plan House, Block No. II,
New Civil Secretariat, Muzaffarabad,
Ph:05822-921976