Join us on Facebook!
Stay updated with our latest construction news, tips, and updates.
Like our Facebook Page
You might have heard a structure called Cofferdam, it is a structure built to divert water either of river or groundwater so as to make a dry, safe and sound environment for the construction activity to carry out. This cofferdam can be a typical retaining wall type or it can be one shape we will discuss in this article which is called secant pile or tangent pile.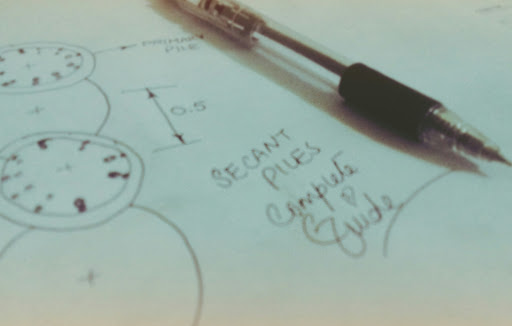 Pile foundation is a type of deep foundation in which the load is transferred to the underneath hard rock several meters into the soil with the help of a cast in-situ or pre-cast shafts of concrete or steel or timber. 
Definition of Secant Piles
These piles are sometimes constructed in series of drilled shafts overlapping and intersecting each other to form a wall type structure and are called secant piles. These shafts are mostly cast in-situ and can be a temporary or permanent part of the structure depending on the situation. 
These piles are reinforced either with reinforcement bars or with cold formed steel beam sections like I beam and are constructed either by drilling under mud or augering.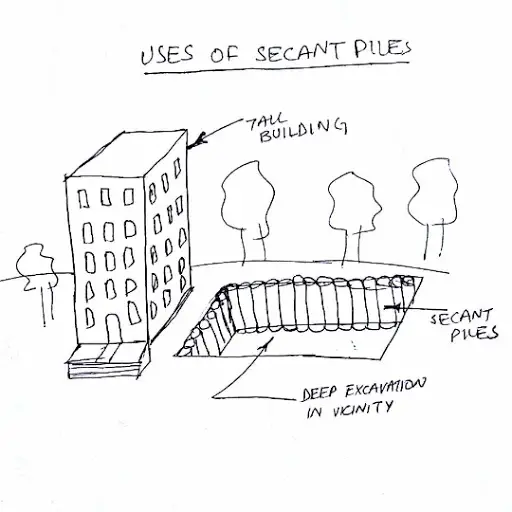 Construction Methodology 
Primary Piles are first casted after auguring and drilling in the ground which is usually not reinforced and are having a gap or space for secondary piles. After primary piles gain sufficient strength secondary piles are casted in between the primary piles having a typical overlap of 3 inches (8 cm). 
A typical wall constructed in such a way consists of 36 inches diameter and have center to center space of 30 inches. 
Regarding concrete strength, it depends on the requirement. The general procedure adopted is that primary piles are of low strength as it is to be drilled again while the secondary piles are of high strength to ensure a water-tight structure. However, all high strength and all low strength combination can also be adopted depending on the site conditions and the requirement of the structure. In secant piles sometimes anchors can be used to provide additional lateral support, if needed. 
Uses of Secant Piles
The secant piles are best choice in following circumstances :- 
1.
New building basements 
2.
For Sub-structures that are in close proximity to existing structures and thus requiring restraint 
4.
In order to avoid excessive excavation 
5.
To control ground water movement 
6.
Resist lateral pressure 
7.
Seal groundwater inflow 
Secant piles have many advantages and are given preference over to sheet piles due to increased construction alignment flexibility. Increased wall stiffness and can be installed in difficult ground (cobbles/boulders) and will also ensure less noisy construction.