Like all other professions the basic document needed to apply for any job in Civil Engineering is a CV or a resume. If you are in the final year of your graduation that its your best time to make a CV or a Resume before graduation so that you can apply for various opportunities / jobs to be a successful professional individual.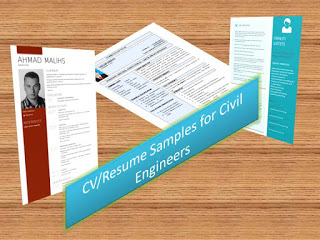 Resume / CV Samples for Civil Engineering 
Basically CV is acronym for Curriculum Vitae, which in Latin means "course of Life", so CV is actually a summary of your experience, skills and education. 
Resume is also summary of your skills and education but the word Resume is a French word and mostly in Canada and USA the word Resume is usually used. 
\"Your resume is a marketing tool\"
So basically CV or a Resume is often the first phase in getting yourself noticed by potential employer. When employers have a vacancy they need to fill they will put together a person specification, a list of skills and experience they want the ideal candidate to possess. From this list, the job advert is created, which is where they will ask you to send them your CV.  CV is a quick "snapshot" of you with the intent of capturing and emphasizing interests and secure you an interview. 
It is not an autobiography. Since your resume is a primary tool in your job search, it needs to be carefully written and critiqued. 
Your resume is a marketing tool. It needs to demonstrate:
•
That you are employable 
•
How you meet the job and the organisation\'s requirements 
•
That you have the right qualifications and education 
•
That you have the right experience and skills 
•
That you have the right level of professionalism for the job
Generally the order of the resume or CV is also important so here is a recommended order 
•
List of technical/software skills
•
Personal attributes/career overview
•
Educational qualifications
•
Employment history/volunteering/work placements 
Civil Engineering CV / Resume Samples
Today I am here going to share with you some CV Resume Samples for Civil Engineers some are editable some are just for reference and some are for design / templates in word. 
Editable Word .doc and .docx format CV Resumes for Civil Engineers
Here is a list of Resume / CV you can freely download for Civil Engineers you can open in any word version and edit them as you needed.
Note: To download these file no membership is required it is free for all. 
@import url(http://fonts.googleapis.com/css?family=Oswald:700);