Join us on Facebook!
Stay updated with our latest construction news, tips, and updates.
Like our Facebook Page
In the recent times, Punjab and specially Lahore have been the center point of development including flyovers, highway projects, underpasses, metro bus systems and much more but now the PM have certainly expanding these projects throughout the country.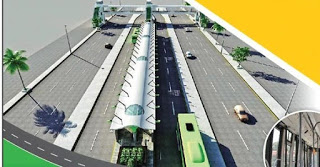 Greeline Bus Rapid Transit System in Karachi
Besides criticism and censure the projects have proved to provide luxury with comfort to some portion of the society that have been deprived of such services in the past. 
PM Sharif has announced a project of Greeline Bus Transit System in Karachi after being success or whatever of Orangeline Train in Lahore and Rawalpindi and Lahore Metro Bus System. 
With this Greeline Rapid Transit System more than 300,000 people will be able to travel from KESC power house, Sarjani Town towards Muncipal Park and M.A. Jinnah Road. 
The features of the project are; the cost of the project is estimated to be 16,085 million Rupees with a station to station distance of 800 meters, having special provisions for special persons, 
The accumulative length of the project is estimated to be 18.4 kilometer including 11.7 km elevated and 7.7 km at grade, the special automated ticketing system will be introduced including luxurious busses and waiting portions in stations.