Join us on Facebook!
Stay updated with our latest construction news, tips, and updates.
Like our Facebook Page
The aim of compiling this book has been to give a working knowledge of the important details of civil engineering, construction, materials used in civil engineering, including the source of raw materials, their characteristics, the process of manufacture, their defects, structures and uses in the industry, and the basics of surveying and leveling and several other major topics in civil engineering to all engineering students in a systematic way, the book is written in a clear and easy-to-read style, presenting fundamentals of surveying at a level that can be quickly grasped by a beginner. The Basic surveying topics deal with modern instruments such as total station, GPS and digital level,s reflecting modern field procedures.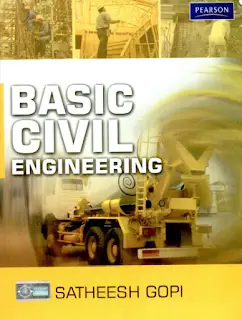 Basic Civil Engineering by Satheesh Gopi
Basic Civil Engineering by Satheesh Gopi published by Pearson Publishers is one of the primary text book  for the course for Civil Engineers. The original text book may upto Rs.450 . The e-book/pdf for that is not easily available also. However a free PDF excerpt of Book whose preview is shown below. A free Solution manual is also available. Which surely help you students.
Title of the Book
Basic Civil Engineering
Author of the Book
Satheesh Gopi1
Contents of the Book
Part 1 – Materials for Construction
Chapter 1 Stones
Chapter 2 Sand
Chapter 3 Lime
Chapter 4 Cement
Chapter 5 Bricks
Chapter 6 Tiles
Chapter 7 Timber
Chapter 8 Steel
Chapter 9 Aluminum
Chapter 10 Paints and Varnishes
Chapter 11 Miscellaneous Building Materials
Part II Building Construction
Chapter 12 Components Parts of a Building
Chapter 13 Foundation
Chapter 14 Mortar
Chapter 15 Masonry Works
Chapter 16 Concrete
Chapter 17 Doors and Windows
Chapter 18 Roof
Chapter 19 Floors
Chapter 20 Stairs
Chapter 21 Plastering
Chapter 22 Painting
Chapter 23 Damp Proofing
Chapter 24 Building Services
Chapter 25 Building Maintenance
Part III – Basic Surveying
Chapter 26 Chain Surveying and Modernization in Land Surveying
Chapter 27 Levelling
Part IV – Other Major Topics in Civil Engineering
Chapter 28 – Environmental Engineering
Chapter 29 – Geotechnical Engineering
Chapter 30 – Transport, Traffic and Urban Engineering
Chapter 31 – Irrigation and Water Supply Engineering
Chapter 32 – Computer Aided Design (CAD)
Download the Book
The Content is for Members Only !!!
This Book is available to download for our Bronze, Silver & Gold Level members, you can simply click the button below to signup / login for your membership and download the book now.
Download this Book For free