Join us on Facebook!
Stay updated with our latest construction news, tips, and updates.
Like our Facebook Page
An engineer who is instructed to investigate and report on a deteriorated concrete structure, and to prepare recommendations for necessary remedial work, should be clear in his own mind on the extent of this responsibilities to his client.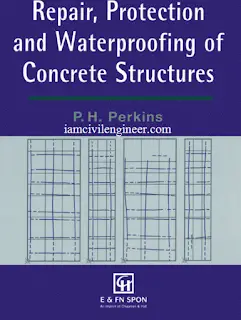 If he is responsible for the inspection of the remedial work to ensure that the requirements of the contract are compiled with and the certification of payments – on – account to the contractor, then it is in the interests of this client that good relations with the contractor are maintained. These good relations will be reflected in the standard of work, and its completion within the contract period.
Title of the Book
Repair, Protection and Waterproofing of Concrete Structures
Author of the Book
P.H. Perkins
Contents of the Book
1. General Observations
2. Basic Characteristics of concrete and mortar and their constituent and associated materials
3. Associated Materials
4. Factors affecting the durability of reinforced concrete
5. Investigation and diagnosis of defects in reinforced concrete
6. Non-structural repairs to reinforced concrete
7. Structural repairs to reinforced concrete
8. Repairs to fire-damaged concrete building
9. Repairs to concrete highway bridges
10. Repair of concrete silos and buckers
11. Coatings (barrier systems) for reinforced concrete
12. Repairs to concrete floors and roofs
13. Repairs to concrete liquid – retaining structures
14. Repairs to concrete water-excluding structures
15. Repairs to concrete marine structures
Download the Book
The Content is for Members Only !!!
This Book is available to download for our free members, you can simply click the button below to signup / login for your free membership and download the book now.
Download this Book For free