Join us on Facebook!
Stay updated with our latest construction news, tips, and updates.
Like our Facebook Page
Structural Steel is a very important part of architecture. The primary purpose of Structural Steel Drafting and Design is to provide students at both the associate and bachelor's degree levels with a fundamental and practical knowledge of how structural steel is used to construct support frames for modern commercial and industrial buildings. Special emphasis is placed on how structural drafters in both structural design and fabrication offices prepare the working drawings required to help transform the architect's vision and the engineer's design into reality.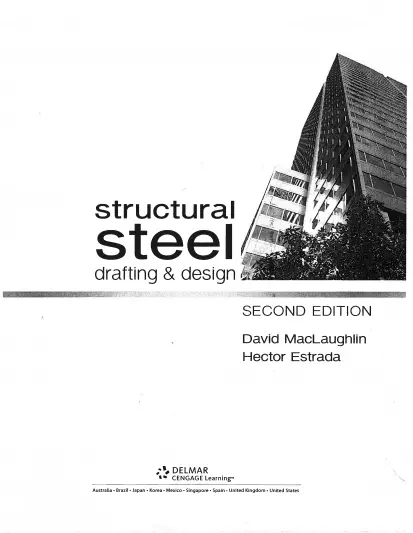 Download Structural Steel drafting and Design free by David MacLaughlin  Hector Estrada PDF
Title of the Book
Structural Steel drafting and Design
Second Edition
Author of the Book 
David MacLaughlin
Hector Estrada
Contents of the Book
Chapter 1 Steel – an economical choice for commercial and industrial buildings
Chapter 2: the world of structural Steel
Chapter 3: The structural drafter at work
Chapter 4: Reading architectural drawings for steel-framed buildings
Chapter 5: An overview of Basic Structural Steel Design Calculations
Chapter 6: The preparation of Structural Steel Design Drawings and Details
Chapter 7: Structural Steel Sections and Details: Some Practical Examples
Chapter 8: An introduction to Structural Steel Shop Drawings
Chapter 9: Structural Connections
Chapter 10: Structural Steel Column Detailing
Chapter 11: Structural Steel Beam and Miscellaneous Steel Detailing
Chapter 12: Anchor Rod Details, Anchor Rod Plans, Steel Erection Plans, and the Field Bolt List
Chapter 13: Vertical and Horizontal Bracing
Download the Book
The Content is for Members Only !!!
This Book is available to download only for our Bronze, Silver & Gold Level Members, you can simply click the button below to signup / login for your membership & Download.
Download this Book