Are you looking to apply paint on asphalt and are wondering "what paint should I put on the asphalt"? Acrylic paint is the most common type of paint used on asphalt. In fact, it's the best polymer-based paint that is water-soluble as well. But it's not the only choice. There're many other choices and so it is important to understand all the different types of paints that you can use on asphalt.
Whether you're looking for best paint for asphalt driveway or you're looking to have paint for asphalt parking lot; these colored asphalt paint will easily make your property stand out without damaging the integrity of the pavement.
So, in our today's blog we've brought some useful insights about the best possible paint choices for your asphalt driveway or walkways.
Not all paints blends well with asphalt
Asphalt is a complex semi flexible paving material that utilizes petroleum and chemical based products. Due to unique composition of Asphalt it is not possible for any type of paint to stick to it.
If the selection of paint is wrong, then the asphaltic composition makes it harder to stick to the surface and ultimately peeling off takes place.
It is utmost desires to choose the specific paint on asphalt to prevent wasting of time and money.
Whether it's demolishing a parking lot or installing a three-point arch on an entrance basketball court, there are special paints that work best on asphalt.
How long the paint lasts, looks more shiny and vibrant, and adheres to the surface will depend on the type of paint.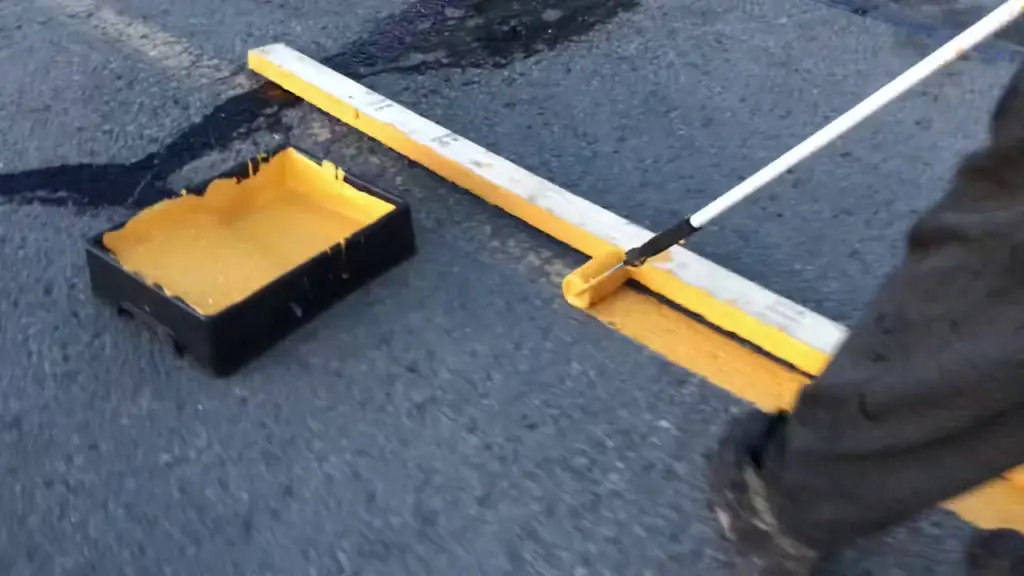 ·        Acrylic Paint
This paint is mostly used by professionals because it is soluble in water and polymeric in nature due to which it prevents the lines form peeling off the asphaltic surface.
Due to its water tightness nature it will not cause any damage to subgrade, sub base, base and wearing course and also to its surrounding areas.
There are various colors available and can be applied conveniently with spraying, brushes and roller equipment. This paint is expensive as compared to other paints due to its popularity and versatility in lying on asphaltic surface.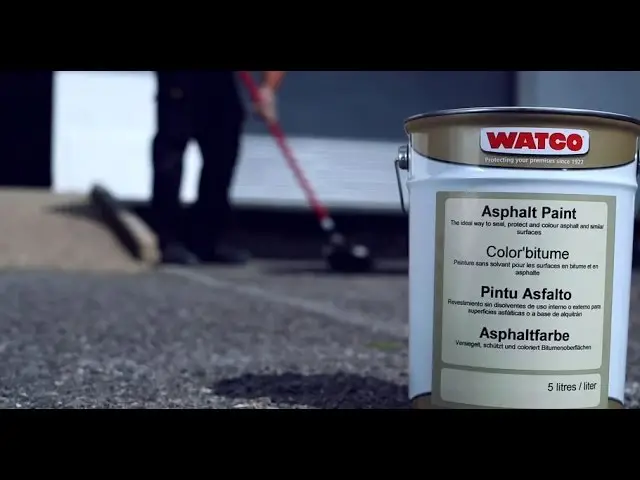 ·        Parking Lot Paints
Paints for parking lots are particularly designed and there are two types for it; (a) solvent-based and (b) Water based
Alkyd, the term though not accurate, is used for solvent based traffic paints and is mainly one of the ingredients used as a binder. This paint is injurious to health and has severe effect on the environment as the solvents used in paints emit volatile organic compounds.
Resultantly, it is not preferred to use it in indoor and warehouses facilities. These paints are cause of "Sick Building Syndrome" and fumes are responsible for headache.
These fumes are so destructive that after the paint dries, the fumes stick to the walls of the building for days or even longer, all of which would happen if the building was well insulated or if the circulation of fresh air was restricted.
Although solvent based paints are expensive but these are more durable ones. These paints are used for outdoor parking lots, high traffic areas, roadways, airport runways and racetracks.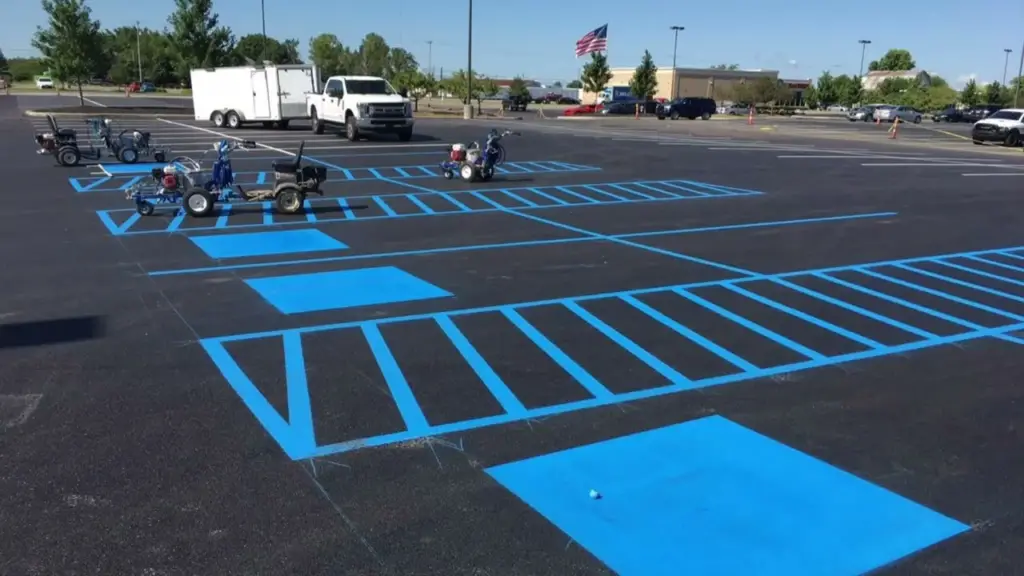 ·        Water Based
The name indicates that these paints has been manufactured with water as its solvent and contains a variety of products and technologies.
These paints are environmental friendly as compared to solvent based paints. Examples are polyurethane, epoxies, acrylics and more. As a general rule they will be safer to use and lower odor than solvent based products.
·        Chlorinated Rubber Paint
This paint is quite expensive, not commonly used for painting parking lot of stripes and lines. When the paint dries, the texture is rubbery. It is mostly durable and are resistant to chipping. It is commonly used in parking lots curbs, posts and other similar items.
Also Read: Asphalt Quantity Calculator for a road, driveway, or highway
·        Thermoplastic Paint
 As the name indicated that it contains plastic polymers and it is used for line stripers. It is more durable but expensive as compared to other paints. Due to its durability it can be used to paint parking lot area.
·        Coal Tar Paint
This paint is used in combination with different types of polymers and is not expensive as acrylic paints. It is stronger and can withstand a high traffic environment and more long lasting than other paints.
Working with it is more corrosive, and it is necessary to use appropriate protective equipment when applying it. It can resist ultra violet beams (UV) coming from sun. It is a black sealant designed to be used as a paint coat for large areas of asphalt. It can be applied with Spraying and Squeegee equipment.  
·        Oil Based Paint
This is similar to acrylic paint and it is available in much variety of colors. This paint breaks, eventually cracks and needs to be replaced because it is not flexible.
As far as physical properties are concerned it is same as acrylic paint and it is not soluble in water. This type of paint dries slowly but will hold up to high volumes of traffic for a long time. It can be applied with paint roller, paint brush and striping machine.
Also Read: What is Asphalt Prime Coat?
·        Water Based Latex Paint
This paint comes in variety of colors. When the asphalt layer is covered with coal tar, this paint gives the best results. It has the unique characteristics of fastest drying.
When applied on the asphalt surface, it will dry within 3 hours of its application. It is not able to withstand high traffic volume due to its least durability. It is least expensive as compared to other paints and can be applied with paint brush, paint roller and striping machine.
Further Read: Download New Aspects of Quantity Surveying Practice by Duncan Cartlidge PDF