The Royal Institution of Charted Surveyors ' Quantity Surveying Think Tank : Questioning the Future of the Profession, heard evidence that many within the construction industry thought Chartered Quantity Surveyors were: Arrogant, friendless and uncooperative. In addition they were perceived to add nothing to the construction process, failed to offer services which clients expected as standard and too few had the courage to challenge established thinking.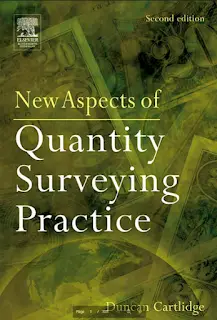 In the same year, Sir John Egan called the whole future of Quantity Surveying into question in the construction industry task force report rethinking construction and if this weren't enough, a report by the University of Coventry entitled surveyors are 'arrogant and lacking in interpersonal skills'.
Title of the Book
New Aspects of Quantity Surveying Practice
Author of the Book 
Duncan Cartlidge 
Content of the Book
The Catalyst of Change
Managing Value Part 1 : The supply chain
Managing value Part 2: Integrated Project Delivery 
Procurement – Doing Deals
Procurement – Doing Deals Electronically 
New Technology – Opportunity or Threat? Graham Castle
Global Markets – Making Ends Meets
Researching Value – Dr. Richard Laing 
Download the Book
The Content is for Members Only !!!
This Book is available to download for our free, Bronze, Silver & Gold Level members, you can simply click the button below to signup / login for your free membership and download the book now for free.
Download this Book for free