Estimation and Quantity surveying is one of a very vital, imperative and significant phase of any construction and civil engineering project whether it is of construction of dam or a house or a road or a plaza or any other type.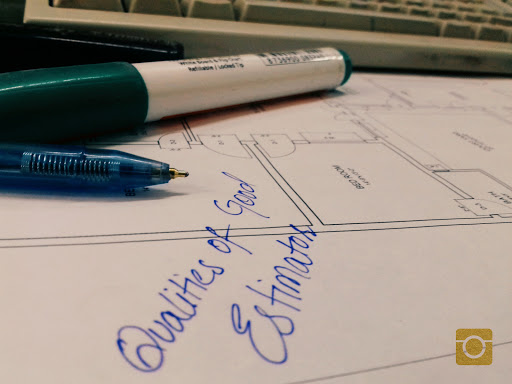 The client is in real relying on the results you are preparing after estimation of some job. Keeping in mind the estimate you would be preparing, the client may give go-a-head to his team or not depending on the funding and financial backings. 
Not any one can be a good estimator; it actually needs your artistic, engineered and technical aptitude which need years to develop through experience, judgment and observations. So if you are planning to be the lucky one than this post is a real food for your thoughts. 
Know the Rules
Like all other technologies and branches of civil engineering; estimation and quantity surveying also have some rules and principles, understanding of which is foremost and utmost need. In preparing an estimate, the Estimator must have good knowledge regarding the most important rules of quantity surveying. 
Understand the Job
Like it is rightly said that drawing is the language of engineering; you can explain a construction project through drawings in very small time and in an easy way otherwise you may need to write books to explain the same. 
Therefore understanding and visualizing the drawings, sections and plans is a very important skill which every engineer and estimator must have. In my experience of two years I have also been taught in the field to understand drawing, follow the drawing. Drawing is like a bible for any project. 
Know the specifications
In our engineering classes, one of our teacher of soil mechanics while explaining the uncertain and unique nature of any project repeatedly warned us to be ready for any happening at site; you must be ready for any sort of unavoidable and inescapable situations. 
As every project is unique and different the specifications, conditions, provisions and requirements are different which you must know prior doing estimation work. You must know the type and characteristics of the material to be used as each material type has its own rate. 
Ability to Visualize
In drawing classes you might have cut sections from various plans; during this process your visualization ability is tested. This is one of the most important ability, not only for a good estimator, but for all the ones in the construction industry whether you are a planning engineer, site engineer or even a designer. 
So being an estimator you must have the ability to visualize all the steps during the process of construction. 
Before preparing the estimate, the estimator should visit the site and make a study of conditions, there. For example, if the construction of a large building is planned, the estimator or his representative should visit the site and: 
1.
Note the location of the proposed building
2.
Get all data available regarding the soil. 
3.
Make a sketch of the site showing all important details
4.
Obtain information concerning light, power and water. 
5.
Secure information concerning banking facilities. 
6.
Note conditions of streets leading to railway yards and to material dealers, and 
7.
Investigate general efficiency of local workman. 
The qualities of a good estimator can be summarized as : 
1 = A knowledge of the details of construction work. 
2 = Experience in construction work.
3 = Having information regarding the materials required, machinery needed, overhead problems, and costs of all kinds. 
4 = Good judgment with regard to different localities, different jobs and different workmen, 
5 = Selection of a good method for preparing an estimate
6 = Ability to be careful, through, hard working and accurate.
7 = Ability to collect, classify and evaluate data relating to estimation.
8 = Ability to visualize all the steps during the process of construction.