Join us on Facebook!
Stay updated with our latest construction news, tips, and updates.
Like our Facebook Page
Have you ever seen a façade or cladding giving look of a rock-hard material but still gives you a see-through and translucent look inside the building? . 
The widest used construction material, which is sustainable and reliable as well, is getting a makeover by engineers of modern era.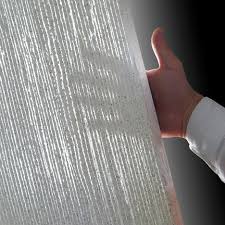 Transparent or Translucent Concrete 
\"it's even possible to see colors through the concrete\"
Whenever you hear about concrete your mind conjures up images of something solid, heavy and for-sure opaque. But when you see something that is transmitting light and is shiny you will think about glass which is fragile and flimsy. 
But you must now know the brand-new ideology of mixing up the properties of two objects that has strength, sustainability and other advantages of concrete and at the same time is transparent and translucent. 
 Transparent concrete or translucent concrete or light-transmitting concrete or Liquid Stone all are same names of a stunning construction material that will change the trends of the modern architectures. 
Concrete has been used as construction material since Roman ancient times, with basic constituents and ingredients remains same. These constituents includes; a binding agent or cementations material  mixed in suitable proportion with coarser aggregates, consisting of larger stone like element and a filler material consisting of finer materials like sands etc. 
Modern concrete is most often reinforced, a practice that is started in 1850s. The simple formula for concrete, however, lends itself to endless modifications. By simply adjusting the ratio of ingredients, engineers can change the strength and texture of material.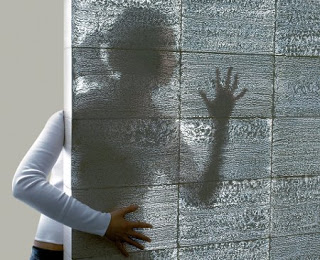 Transparent or Translucent Concrete 
Other ingredients, known as admixtures can be added to alter the concrete's drying time, workability, color and consistency. By switching ingredients and adding new ones, engineers have been able to create a multitude of interesting new products, one of which is translucent concrete. 
Production of Transparent or Translucent Concrete
The Basic production theory or formula for translucent concrete is :- 
"replacing and exchanging the traditional constituents of concrete with transparent or translucent ones"
One option can be use of pieces of plastic or glass as aggregates, and the binding agent can be switched with a type of transparent glue.
If while silica sand and white Portland cement is mixed in varying ratios a mix can be developed that will be much thinner, which can be strengthen with strands of fiberglass and then will be able to transmit light. 
Now comes the mostly used approach:- 
Combination of Optical Fiber and Fine Concrete
In 2001, a Hungarian Architect Aron Losoncze, used very fine aggregates that encased optical fibers layered over each other from one end throughout to other end in a long narrow mold, creating a long beam which afterwards will be cut into blocks. Such blocks required no reinforcement as already have optical fibers that act like reinforcement even though they are in small amount approx. 4 % of the total volume of blocks. 
Thickness of fibers can be varied between 2 µm and 2 mm to suite the particular requirements of light transmission. Optical fibers transmit light so effectively that there is virtually no loss of light conducted through the fibers; in fact, it's even possible to see colors through the concrete. Moreover optical fibers can transmit light even an incident angle greater than 60 degrees. 
Transparent concrete is manufactured using fine materials only, it does not contain coarse aggregates and can achieve as high compressive strength as 10,000 psi or 70 MPa. 
In the original production procedure, fiber filaments were placed individually in the concrete, making production time-consuming and costly. New techniques have been developed in which semi-automatic production use woven fiber fabric instead of single filaments. 
Up-till now, due to production or manufacturing process structural applications have not yet been developed. 
Applications 
Translucent or transparent concrete is used in fine architecture as a façade material and for cladding of interior walls. 
Translucent concrete can be used to make light installations, signs, and fixed-in-place furniture such as benches, desks and counters. 
The Italian Pavilion at the Shanghai World Expo 2010 marked the first major application of transparent concrete in a building. 
Transparent concrete can be used any where glass or traditional concrete are used. Translucent concrete combines the fluid potential of concrete with glass ability to admit light, and it also retains privacy and can be used as structural support. The possibilities for translucent concrete innumerable; the more it is used, the more new uses will be discovered. 
As transparent concrete can emit light, it is the best example for a sustainable and green building technology, you will need less light from artificial sources and thus energy will be saved. 
@import url(http://fonts.googleapis.com/css?family=Oswald:700);